Essays
I've been known to write a few.
These are my favourites from the past little while.
2010-10-19 Opinion Piece (Anthropology Exercise): Children's Media and Gendered Schismogenesis
2010-09-27 Opinion Piece (Anthropology Exercise): Postfeminism and Consumerism
2010-06-30 "'Canadian-Canadian'" (for the Dominion Institute 'Great Canadian Questions' Essay Contest, s.V. "Identity Revolution)
2010-04-20 "Beyond the Looking Glass: Exploring Global Health with a New Lexicon"
2010-04-14 "The Grass-Eating Boys and Anxious Masculinity: Examining Euro-American Media Portrayal of Japan's Young Male 'Herbivores'"
2010-04-13 "Colonised Bedrooms?: Examining the Narrative of 'Imported' European Homophobia in Japan"
2010-03-16 "National, International, Global: Tracing the Origins of the Global Public Health Movement"
2010-03-14 "Sexual Diversity in Canadian Healthcare" (for Sprinkle: An Undergraduate Journal of Sexual Diversity Studies)
2010-03-01 "The Ghost and the Zeigeist: Gender and the Male Gaze in Ugetsu"
2009-04-17 "Mirrors for Princes: Medieval Christian and Islamic Perspectives on Religious and Temporal Leadership" (for the Canadian Society for the Study of Religion Undergraduate Essay Contest) *SOON
____________________________________________
This is a short opinion piece for an Anthropology class writing exercise.
Genesis of Difference
How is gender difference generated? We have read psychological and anthropological accounts of gender differentiation that have stressed the importance of childhood development. Drawing on these readings, class discussions, and your own experiences, give a statement as to how you and your peers have been socialized into gendered roles and values.
'The Act Of Watching the Romance':
Children's Media and Gendered Schismogenesis
It is a strange example of cognitive dissonance in North American culture that children are sheltered from such adult themes as sex, violence, drugs, and strong language via a government-mandated ratings system, yet are repeatedly offered the very 'adult' theme of a sort of de-sexualised romance in children's media. Stranger still is the prevalence of romance as a story—an end in itself—in children's media targeted at young girls; whereas, in children's media targeted at boys or equally at both sexes, romance is seldom offered as more than a side-plot. The division on children's media into two (but sometimes three) categories—girls and unisex/boys—is one of the ways in which North American society creates gender difference. This process of schismogenesis via the actions of consuming media, role-modeling media characters, internalizing the narrative-types, and having the difference between different types of targeted media valorised in society at large, is arguably formative for the later roles and desires of the sexes.
Growing up, I consumed many a romantic tale: from Ariel's the mermaid's pursuit of the human Prince Eric in The Little Mermaid, to Snow White's rescue by the handsome hunter in Snow White; from Aurora's awakening at the kiss of a handsome Prince Philip in Sleeping Beauty, to Belle's eventual love for the Beast in Beauty and the Beast—these were and are the classic, canonical stories for little girls. Now, walking through a store like Zellers, or Walmart, the inevitable pink toy and accessory aisle is loaded with products that have these Princess' faces on them. Growing into a feminist consciousness over the last few years, I have looked back on the tales that I loved from time to time, and wondered how they have shaped my thoughts, desires, and ideas; after all, Ariel was desirous of a magical plastic surgery to make her more desirable to a man she never really met, Snow White was supposed to be fourteen years old in her story, sixteen year-old Aurora was kissed without her consent to break her spell, and Belle seems to be suffering from Stockholm syndrome. I can't wholesale dismiss these narrative experiences as negative, as the Princesses and heroines of my media were indeed role models who went on daring adventures and made their own choices; those choices, however, always seemed to lead to an inevitable heterosexual happily-ever-after. Boys watched and enjoyed these films too, but the highly gendered marketing blitz behind them certainly did not have boys in mind as their target demographic. Sure, I watched and loved the unisex Toy Story with my brother, and even though not one Pixar film has had a female protagonist or director, I have nonetheless identified strongly with Pixar stories; yet, there was always the sense that these stories were not meant for me. The male characters of Woody and Buzz went off having adventures that were just that, adventures, not means to a romantic ending—the aggregate impact of my consumption of gendered media narratives led me to expect romance as primary plot and resolution of my stories.
I noticed the impact of being socialized into thinking romantically early on: in elementary school, we (the girls) precociously pursued the disinterested boys on the playground—desiring something that we didn't really understand, and in which they had no real interest. While the boys were consuming stories of adventure, discovery, friendship, and exploration, we were consuming stories of boys. Into my teen years, these stories translated into teen magazines, shows, and movies, telling me not to be an actor in my own life, but to be a fan—an obsessive romantic fan—of boy bands and young male actors. One only has to look from Beatlemania to the Bieber-Fever, from Paul Anka to Robert Pattinson, to see that young women are encouraged to make romantic idols of male media heroes. Into my young adult life, I have seen this narrative over and over again, now in the mainstream media: chick-lit, ladymags, chick-flicks, harlequin romances—targeted female-gendered media reiterates the idea that women want men above all else. Any women's magazine quiz or list would indicate that this romantic mindset benefits men: from "15 Ways to Get Sexier Abs," to "94 New Sex Positions That Will Blow His Mind"; from "How to Read between His Lines" to "Making Healthy Meals for Two"; the romantic narrative affects many women to constantly consider men in their choices about exercise, dress, communication, meal preparation, life choices, careers, and of course, in their relationships.
Conscious of that socialization, I can see the myriad ways in which the pervasive narrative of romance targeted at women serves to maintain social norms; if women internalize the romantic ideal at a young age, they will seek to better understand men in order to be better ideal partners, affirming the value of marriage, heterosexuality, and the family for women. Conversely, boys and men are fed much less in the way of narratives about women's lives, or even relationship advice and all-consuming romantic narratives: you didn't see scads of young boys clamoring for a glimpse of the Spice Girls. The prevalence of the romance narrative for targeted girls' media puts them in a relational mindset, allowing them to understand both male and female experiences, and to be fans of both female role models and male protagonists, actors, and artists; the non-prevalence of this narrative for targeted boys' media allows them to mystify femininity, to seldom identify across the gender binary when consuming media, and to look at girls and women as the Other. In short, gendered distribution of the romance narrative in young children's media affirms the roles and inequalities into which they will be thrust in adulthood.
____________________________________________
This is a short opinion piece for an Anthropology class writing exercise.
Economy
Have developments in the economy over the past half-century favored women over men? As we have seen, capitalism, colonialism, and the emergence of the state have resulted in the disenfranchisement of women. Could it be that recent developments in markets, consumption patterns, industry, services, management techniques, and job training are now reversing that history? Based on the readings, class discussions, and your knowledge of the world, what do you think?
A popular maxim of "post-feminist" media discourse is that the modern North American woman can "have it all"—the nondescript media career, the Manolo Blahnik pumps, one short menstrual period a year, and eventually, 2.5 kids, the multi-functional SUV, the doofy but well-meaning husband, and the cadre of preternaturally effective cleaning products and appliances. Female identity and happiness are inextricably tied with constant capitalist consumption; women are the primary spenders in the North American consumer economy, if not yet the primary breadwinners due to the ever-present wage gap. From controlling household budgets by doing the vast majority of the grocery and family shopping, to spending inordinate amounts of money in the booming business of "self-improvement" (via hair products, makeup, diet products, self-help books, and ladymags), women drive a large—even disproportionate—segment of the North American capitalist consumer economy. These consumption patterns rely on a constant barrage of cultural and media messages in order to maintain them, and thus the flow of capital—the first and foremost of these messages being that women are always in need of improvement: women in their natural state are too ugly, so they must paint their faces; they are too covered in cellulite, so they must refrain from eating; they are too dark or too light, so they must alternately bleach their skin or tan it; they are too hairy, so they must wax themselves back to pre-pubescence. Indeed, if the wide variations in the natural adult female form were accepted or even lauded, women would surely not be encouraged to purchase make-up, diet products, hair-removal devices, manicures, skin-bleaching creams, hair weaves, haute couture, and the myriad other products and services targeted specifically at women. This is perfectly exemplified by the following sketch:
This media discourse is extremely narrow in its assertion of what this woman who "has it all" looks like; especially in advertising: this stereotypical woman is white, cisgendered, middle-to-upper class, straight, thin, conventionally attractive, nondisabled, young, and urban or suburban. The "fun, fearless, female" image which women as a category are supposed to literally buy in to is accessible to an extremely small minority of actual women. In advertising targeted at women, this stereotypical image is use to sell commodities: women are supposed to want to be the archetypical "career girl" or "supermom." Whereas, often in unisex advertising or advertising directed at men, women are turned into the object in order to sell a commodity: men are supposed to want to consume women as well as beer, razors, body sprays, or alternately, men are supposed to want to escape caricatured nagging women who have not achieved the compliant femininity of the other commodified women. Almost unilaterally, women's bodies, or representations of them, are used as advertisements to the general populace.
The exclusivity of the post-feminist ideal for women harms women as a category in two broad ways. First, the omnipresence of the ideal woman in the media excludes those who are darker, poorer, fatter, or queerer—most women—from accessing media channels for self-representation. Although, because a certain class of women can enjoy the ideal, this class becomes the exemplar of why North American Society no longer needs feminism, leading to what some have termed "enlightened sexism." Second, the unsustainable ways in which consumer culture creates material inequalities leads to a host of problems: from environmental racism (dumping waste in communities of colour), to gentrification (driving poorer individuals into neighbourhoods with less infrastructure), to pollution (oestrogen and feminising hormones from birth control in the waterways), to self-harm (white beauty standards affecting women of colour to bleach their skin or relax their hair), to the global feminisation of poverty (systemically excluding women from income-generating activities), to the maintenance of the "pink-collar" sector (relegating women to low-paying jobs in service or care)—consumerism may allow a certain class of women to achieve greater parity with men, but women as a category remain at the margins.
In recent media discourses, the idea of the "he-cession" or "The End of Men" has become popularised to indicate that women are categorically advantaged over men. Statistics to support this thesis are cherry-picked from a pool of statistics that would otherwise indicate men are still on top in almost every way, socially and economically. Indeed, in talking about how women have a larger presence at universities, one must also parse the fact that men have more opportunities to take well-compensated blue-collar jobs that would are hostile work environments for women, or even how a large portion of the population cannot afford the four-year bachelor's degree. In conversing about how women make up the majority of the workforce for the first time in US history, one must also consider the second and third shift that women pull in the home. In asserting that women live longer and are thus advantaged over men, one must also consider the patholgisation of women's natural body functions such as menstruation, pregnancy and childbirth, and also the boon of plastic surgery and body-altering procedures performed on women. In postulating as to why girls do better than boys in school and literacy, one must consider the different ways in which boys and girls are socialised to be active and passive respectively, rather than a so-called "feminised" education system.
Though on the surface it would seem that women have done well in the neoliberal economy, just below the surface is a world that is still a hostile place for most women. The so-called "End of Men" discourse is a scaremongering backlash against the limited gains a certain class of women have made, not an economic trend.
TOP
____________________________________________
Question 2 – Identity Revolution
"Everywhere, Canadian Identity is seen as crisis-ridden, as a fragile and weak entity constantly under attack and in need of vigilant defense."[1]
The above sentiment, though postulated in 1999, holds a special relevance in the contemporary, post-9/11 political culture of Canada; a mythical—though never clearly delineated—system of 'shared values' has been mobilised against Muslim communities in an over-arching ethos of Islamophobia and anti-Immigration. Indeed, said 'shared values' have been cited as the reasoning for Bill 94, the proposed niqab ban in Quebec, which, according to an Angus Reid poll, is supported by four out of five Canadians.[2] So much for a nation divided. Purportedly, one of the foundational values of Canada and Quebec is the, " . . .equality of women and men,"[3] which is seen by many Canadians to be undermined by the mere presence of devout Muslims. This supposed Quebecois and Canadian virtue has not extended to governance, with no woman ever holding the office of Premier in Quebec, Kim Campbell's six-month stint in office being the closest thing Canada has ever had to a term with a female Prime Minister, and only 23% of all elected representatives in Canada identifying as female in 2010.[4] Nor has it extended to economic parity for women, with visible minority women—bearing the double burden of racism and sexism—earning 53.4 cents to a white man's dollar in Ontario.[5] Nor has the Canadian ideal of equality between the sexes meant that the five hundred and twenty plus missing and murdered Aboriginal women in this country are being made a priority by law enforcement.[6] These 'shared values' that constitute part of what it means to be a member of Canadian society prove to be nothing more than rhetoric—without meaningful action, these values are just statements.
So what then does it mean to have a Canadian identity: to hold these 'shared values' that position the devout, niqab-, burqa-, or hijab-wearing Muslim-Canadian squarely in opposition to the four-out-of-five 'Canadian-Canadian'[7] majority? In his discussion of 'Changing Identities,' Neil Bissoondath asserts that, "Canada's public identity continues to be built on opposition. . ."[8] Without a doubt, the oft-repeated idea that sexism does not really exist in Canada because 'we don't cover up our women' constitutes an oppositional identity-construction strategy; 'we are not like them, and since they are coming to our country, they had better learn to be like us.' Never mind that in a liberal democracy, the idea of a government legislating how little clothing a woman can wear should seem as preposterous as any other authority telling her how much she ought to wear. Bissoondath further contends that Canadians ought to find pride in our accomplishments, lest we succumb to the allure of the mythologised histories of our immigrant ancestors' nations, and collectively forget our Canadianness. It is, however, our essentialised Canadianness that is brought to the fore in the recent debates about reasonable accommodation, immigration, and the niqab ban; our 'shared values' and histories, so lamented by Bissoondath as under-appreciated or even non-existent, have become a powerful means to marginalise a particular community. Much like our neighbors to the South, Canadians have banded together and created a convenient, free-floating identity based on xenophobia.
Along this vein, Naomi Klein examines how the regional and linguistic politics of identity in Canada have eclipsed the concerns of the various minorities (and oppressed majorities) that inhabit this country: women, indigenous peoples, and religious, ethnic, and sexual minorities. In her discussion of 'Veto Rights,' Klein stresses that in Canada's ". . . indigenous victim hierarchy,"[9] the very white, male, and able-bodied contingent that quibbles over the English and French conflict, Torontocentrism, and the disparities between East and West, takes up all of the discursive space that could be used to talk about other pressing issues of identity.
Although recently, these seemingly disparate regional and linguistic factions have been able to reconcile on one issue, and that is the overwhelming anti-niqab sentiment, and more generally, the anti-Islam sentiment—perhaps signaling a new, and disturbing development for Canadian nationalism: did it only require a common foe, a new "Other" to emerge before it settled on an essentialised meaning? In his second article, Bissoondath, quoting Michael Ignatieff, problematises the homogenisation of different ethnic and religious groups, as is happening with visible Muslim-Canadians; the, " . . . untaught, unexamined fusion of personal and group identity on which nationalist intolerance depends,"[10] requires Canadians to see visible Muslim-Canadians as a bloc of "Otherness," versus Canadian sameness. Further, Bissoondath asserts that the Canadian 'mosaic' plays an integral role in the homogenization of ethnocultural minorities—that Canadians, when buying in to the 'noble fiction' of the mosaic, become an aspect of a tile with other similar minorities, rather than fully-formed individuals capable of seeing others as such. This grievance holds water to some extent, as no doubt an outsider painting a group of people with a monochromatic brush is problematic; albeit, this critique, in its call for individuals to 'transcend ethnicity' willfully ignores how identity-based blocs of people have used their perceived homogeneity to affect social change en masse, whether by using their clout as a 'tile' of the Canadian mosaic to gain rights, recognition, or restitution—therefore, belonging to these groups, ethnic or otherwise, can be a site of survival and resistance. The niqab, for example, becomes not only a symbol of devotion to ones' god, but a sign of community membership and resistance to oppression from the dominant Canadian culture; it becomes a place on which multiple identities are inscribed, none of which are intrinsically un-Canadian.
Klein, in her second article, addresses exactly the above: Canada, for all its lip service to and promotion of multiculturalism, is still not a safe space for minorities, visible or otherwise; therefore it is no wonder that the groups Bissoondath calls to 'transcend ethnicity' instead to cling to it as if it were a rock in a stormy sea, because the reality is, for many marked Canadians, living here means fearing that something as harmless as one's clothing of choice could be legislated against. Furthermore, Klein argues:
Canada has forged and identity grounded in a lie. The lie holds that we possess an essential national character beyond our common history of stolen land and immigration; that we are not, in fact, a nation of proud mutts, outcasts and adventurers.[11]
Canada is a country that was born from a devastating genocide of ninety percent of its indigenous population, contrary to the myth of a 'virgin land' or terra nullius, ripe with opportunity for newcomers. Canada's proud railway—a symbol of achievement, expansion, and unity—which according to Bissoondath has "lost its romance,"[12] was built on the backs of Chinese immigrants, who were scarcely considered human, never mind as Canadians. Disabled Canadians could be forcibly eugenically sterilised in Alberta until 1972, but this chapter of our history is largely ignored. As for Canada's democracy, it took two World Wars for Canadian women to be considered 'persons', and even then, only a privileged class of women enjoyed these full human rights—many women still don't. These truths, along with their contemporary reverberations, are truths we don't tell about Canada in all of the posturing about tolerance, equality, and multicultural mosaics, and as Klein makes clear, only in telling these truths about Canada, no matter how difficult, can we understand our national identity, and create a new one based on reconciliation.
An identity based on a meaningful push towards reconciliation, including redressing past wrongs, re-structuring the current vestigial oppressive structures that maintain systemic inequalities, and making a commitment to continue learning and engaging with our checkered history would not have to be an identity based in guilt. Were we to instrumentalise our history of immigration and migration, no doubt we could find a common thread of identity; ours could move from a 'victim culture,' to a 'culture of survivors'—acknowledging the pain we have visited upon one another, and the pain others have visited upon us—but instead of focusing on irreversible actions, we can focus on how we have each resisted, how we have survived. No doubt my ancestors escaping the Russian Revolution were strong, stoic survivors, as were the Mohawk people of Kahnawà:ke during the 1990 Oka crisis; Francophone Quebeckers who rightfully assert their own unique national identity are resilient survivors, and Muslim women who choose to wear coverings—resisting the dominant cultural narrative that marks said coverings as alien and 'un-Canadian'—show the same spirit of resistance. Canada is a country of immigrants, and the ancestors of those the early immigrants killed; therefore, the construction of Canadianness on a locus of anti-immigration sentiment is contrary to our national history, a history that we need to learn in all of its beauty, horror, and banality in order to understand what it means to be a Canadian.
---
[1]
Eva Mackey,
The House of Difference: Cultural Politics and National Identity in Canada
(London: Routledge, 1999), 22.
[2] Marian Scott, "Most Canadians want niqab restricted," in The Montreal Gazette, March 27, 2010.
[3] Kevin Dougherty, "Quebec lifts the face veil," in The Montreal Gazette, March 25, 2010.
[4] Olivia Ward, "Canada 50th in participation by women in politics," in Toronto Star, March 8, 2010.
[5] Laurie Monsebraaten, "Race, gender remain workplace barrier in Ontario, Census data reveal," in Toronto Star, June 03, 2010.
[6] Andre Picard, "With more than 500 aboriginal women missing, action is overdue," in The Globe and Mail, September 3, 2009.
[7] Eva Mackey, The House of Difference, 31.
[8] Neil Bissoondath, "Article One: Changing Identities," emphasis mine.
[9] Naomi Klein, "Article One: Veto Rights."
[10] Neil Bissoondath, "Article Two."
[11] Naomi Klein, "Article Two."
[12] Neil Bissoondath, "Article One: Changing Identities."
TOP
____________________________________________
Exploring Global Health with a New Lexicon
"Finally, today in the present, a field of the surhomme or "afterman," in which finitude, as empiricity, gives way to a play of forces and forms. . ."[1]
Global health, as a new and unique result of myriad interlocking historical processes, cannot be adequately examined or critiqued via the existing frameworks of previous public health discourses, as its movement beyond existing paradigms is precisely what marks it as different and worthy of anthropological inquiry. Critiques of global health which hearken back to the concepts of the 'national social,' for example Adriana Petryna and Arthur Kleinman's "The Pharmaceutical Nexus," ignore the revolutionary possibilities that a responsible global health movement could affect, and instead dismiss global health wholesale as a negative development because of its rise out of and continued association with neoliberalism.[2] Additionally, couching an analysis of global health in terms of national public health erases the supra-national nature of the global health arena in favour of focussing of nation-based factors; thus, the importance of major players in the movement—such as the 'borderless' online sphere, globalized corporations, international organizations, international regulatory bodies, and global non-governmental organizations—is not adequately analysed. Therefore, in understanding, and questioning global health is its specificity, it is necessary to create new conceptual and analytical frameworks.  An examination  of three such global health-specific frameworks—specifically 'biosociality' (Rabinow), 'the politics of life' (Fassin) and 'the pharmaceutical nexus' (Petryna and Kleinman)—brings to light the importance of articulating the difference of global health in the terms of global health.
One such term, Paul Rabinow's concept of 'biosociality,' predicts the necessity of both new philosophical conceptions, and of manners of interaction in the age of the Human Genome Initiative, asking simply "[h]ow will our social and ethical practices change as this project advances?"[3] He posits that whereas, "[p]revious eugenics projects have been modern social projects cast in biological metaphors,"[4] the new climate of genetics ". . .will become instead a circulation network of identity terms and restriction loci, around which a truly new type of autoproduction will emerge, which [he] call[s] 'biosociality'."[5] This would result in new modes of selfhood and embodiment, as well as ". . . new group and individual identities arising out of these new [genetic] truths."[6] Biosociality, then, the inverse of eugenics, is exemplified by developments such as support groups for sufferers of a genetic disease, or more specifically recent formations of advocacy, awareness, and support groups of breast cancer "previvors" who have pre-emptive, risk-reducing mastectomies based on their inheritance of the BRCA gene mutation. Indeed, Rabinow outlines modern risk-assessment and prevention tools as a key figures in the dissolution of 'society' as a concept, indicating that such a conception of the social is ". . .giving way to a new genetics and the beginnings of a redefinition and eventual operationalization of nature."[7] He predicts not that these new social formations based on genetics will replace all older forms of categorization, such as race, age, and gender, but that these categories ". . . will be joined by a vast array of new ones, which will cross-cut, partially supersede, and eventually redefine older categories . . ."[8] What is "natural," then, is called into question when human intervention can so radically change the course of even genetic truths, such as by performing a pre-emptive mastectomy. Additionally, food production and consumption becomes a site at which the dichotomy of "natural" and "artificial" is complicated, as advancements in genetics and technology have irrevocably blurred the lines between growing, producing and engineering nutritious foodstuffs.[9] The idea of "naturalism," which holds that, ". . .the artificial is never as good as the natural. . ." perhaps fails to encapsulate both the past and the present moment; what, exactly, constitutes artificiality is unclear, especially as very little of what constitutes the construct of "nature" is untouched by humans.[10] Rabinow therefore blurs the lines between the previously dichotomous categories of the social and the genetic, the artificial and the natural, exactly because these rigid, structuralist categories are inadequate to describe the contemporary (and the possible) moral, technological, and interactional climate. Therefore, his concept of biosociality is integral to understanding the difference of global health, as the era of global health marks a change in all of these categories.
Another such framework for understanding global health is Didier Fassin's "politics of life," in which the idea of "life as such"[11] is explored as a logical extension of Foucauldian paradigms. Fassin interrogates ". . .how [life] simultaneously shapes and is shaped by the political choices and the moral economies of contemporary societies – the way in which it is historically 'problematized'. . . ," and takes issue with the fact that Foucault did not, in his writings, parse 'inequality', nor did he explore what, exactly, it means for state policymakers to 'reject [persons] into death.[12] Instead of "Foucault's biopower," which he sees as inadequately capturing the realities of the present moment, Fassin proposes the categories of  ". . . biolegitimacy ['the power of life as such'] and bio-inequalities ['biopolitics . . . specifically about inequalities in life']. . ." in order to capture ". . .the meaning and value we attach to life as such and to lives concretely. . ." thus affecting ". . .an alternative way to apprehend the politics of life. . ."[13] He uses the example of Pinochet, whose sentencing and trial were considerably lightened because of his purported ill health, in this case (as in others) threatened biological life takes precedence over a political life, demonstrating the power of 'life as such'.[14] Fassin extends his idea to humanitarianism, indicating, "[h]umanitarianism is not about human rights in general, but the right to live in particular."[15] There is something sacred about biological 'life as such,' which allows it precedence over other concerns; it is deemed in and of itself to be legitimate grounds on which one can access care and leniency. Indeed, vis-à-vis 'biopower,' 'biolegitimacy' ". . . emphasize[s] the construction of the meaning and values of life instead of the exercise of forces and strategies to control it."[16] Logically, the concept of 'biolegitimacy,' (life as such) can be seen at foundational to Petryna's concept of 'biological citizenship,' wherein exposure to biological harm becomes a ground on which claims to citizenship, membership and healthcare can be made (such as with Chernobyl),[17] and thus extends also to 'bio-inequalities' (the value differential between biological citizens/non-biological citizens). This 'politics of life' asks the question "[w]ho should live and in the name of what. . .," for,
. . .'to make live'. . . is also 'to reject into death,'  either practically as a consequence of the neglect of policy-makers towards certain groups of population, or intellectually as a result of not measuring the effects of these policies.[18]
Fassin concludes his assessment of this of the 'politics of life' as such:
What politics does to life—and lives—is not just a question of discourses and technologies, of strategies and tactics. It is also a question of the concrete way in which individuals and groups are treated, under which principles and in the name of which morals, implying which inequalities and misrecognitions.[19]
To Fassin, not only the intrinsic value of a life and a body is curious, but also the differential between such values. Arbitrary and culturally inflected assessments of human value are not only curious, but also tragic, and have devastating consequences for those on the lower echelons of biological need and worth. In the global health arena, where endemic inequalities—divided along lines of colonized/colonizer, dark skin/light skin, and Global South/Global North—characterize who has access to health resources and who does not. It is critical that anthropology address those questions that are not being asked: one of which is certainly who lives and who dies because of the unequal distribution of health resources, and why? Thus Fassin's 'politics of life' addresses many of the questions unique to a globalized health arena.
Lastly, Adriana Petryna and Arthur Kleinmann concept of "The Pharmaceutical Nexus"—while problematic because of its reliance on the idealised paradigms of the national social,[20] and the role of the state—provides an additional term to the lexicon through which the difference of global health can be captured. As complexity of local and global systems cannot adequately be captured in a linear fashion, that authors assert, "[t]he idea of a nexus [in order] to capture a broad set of political and social transitions that so some extent fall under and to some extent happen through the globalization of pharmaceuticals."[21]According to this framework, structural inequalities have been formative for the modern pharmaceutical industry: "blockbuster drugs" for depression and arthritis are continually and rapidly developed for the needs of the world's richest, whereas critical drugs for diseases such as AIDS and malaria are not developed and distributed at nearly the same rate for the world's poorest; "[t]hus," as Petryna and Kleinman assert, "at least two distinct pharmaceutical markets have evolved based on group behaviours, culture, or economic characteristics and their potential to enhance industry profits."[22] In a globalized and neoliberal market, "[w]ell-being is recast as a commodity and as a distinct personal achievement. . ." in drug advertising, put adjacent to images of the health problems of 'others' as ". . .collective forms of suffering that are portrayed as inchoate or hopelessly untreatable."[23] This results in a moral economy of health that prioritises some forms of health investments over others. They ask—perhaps inaccurately, as no one arbiter makes these decisions in a complicated and bureaucratic world—"[w]hose illness is worth treating? Whose life is worth saving? . . . someone has to make the decision as to who lives and who dies."[24] This, among other things, is painted as part of the negative reality of global health. Petryna and Kleinman also lament that the,". . . overfetishization of pharmaceuticals aimed at repairing the body can miss the social principle of healing altogether."[25] Indeed, "[m]essages about drugs have become a part of who we are and how we live in the global market. . ."[26] Drug advertising has changed the way in which individuals (consumers) conceptualize of their health and well-being; drugs are, to some extent, seen to be an essential commodity for a healthy person to possess. Advertising is by no means morally neutral, as its very existence is predicated on the notion of "selling" rather than "raising awareness," but the moral implications range beyond the marketing of drugs; conflict of interest permeates every level of the pharmaceutical industry, simply because of its largesse: it encompasses academic research, private development, government regulations, media, and at every level, money changes hands.[27] Additionally, global regulatory standards for pharmaceuticals are essential to the industry, but underdeveloped; nonetheless, they ". . . encompass monopolies over strategic knowledge,"[28] and ". . .channel. . . knowledge, capital, and resources in specific directions."[29]
Their conclusion is simply that the new climate for pharmaceutical sale and distritribution is complicated: "[t]he nexus may appear different, and pose different kinds of problems, for different kinds of people or interests."[30] Therefore, when examining global health from the perspective of drug research, development, and sales, it is important to acknowledge that no one factor or body is solely responsible for all of the changes wrought in the market, rather, there is a complex history and climate that has shaped and will continue to shape the globalizing market for pharmaceuticals: a pharmaceutical nexus.
Global health, as a contemporary reality, has been shaped by a number of different social, political, and economic forces; additionally, the three previous categories may not even adequately capture the various forces at work in shaping contemporary global health. It is therefore critical to conceptualise of the difference of global health in terms of its own unique lexicon, as it is clearly a phenomenon that has resulted out of the blurring of previously clearly demarcated categories, such as 'social' and 'biological.' Anthropologists who study global health have begun to create a unique set of conceptual tools in order to understand its specificity.
---
[1].
Paul Rabinow, "Artificiality and Enlightenment: From Sociobiology to Biosociality," in
Essays on the Anthropology of Reason
, 91-2.
[2]. Tobias Rees, Lecture, in New Horizons in Medical Anthropology, March 23, 2010, McGill University, Montreal, Quebec.
[3]. Paul Rabinow, "Artificiality and Enlightenment," 93.
[4]. Ibid., 98.
[5]. Ibid., 99.
[6]. Ibid., 102.
[7]. Ibid., 99-101.
[8]. Ibid., 103.
[9]. Ibid., 105-7.
[10]. Ibid., 108.
[11]. Didier Fassin, "Another Politics of Life is Possible," in Theory, Culture, & Society (2009), Vol. 26, No. 44; 48.
[12]. Ibid.
[13]. Ibid., 49.
[14]. Ibid., 50.
[15]. Ibid.
[16]. Ibid., 52.
[17]. Ibid., 51.
[18]. Ibid., 54.
[19]. Ibid., 57.
[20]. Adriana Petryna and Arthur Kleinman, "The Pharmaceutical Nexus," in Global Pharmaceuticals: Ethics, Markets, Practices,  18-19.
[21]. Ibid., 21.
[22]. Ibid., 2-3.
[23]. Ibid., 3.
[24]. Ibid., 6.
[25]. Ibid., 9.
[26]. Ibid., 15-6.
[27]. Ibid., 12-3.
[28]. Ibid., 13.
[29]. Ibid., 12.
[30]. Ibid.,21.
TOP
____________________________________________
The Grass-Eating Boys and Anxious Masculinity:
Examining Euro-American Media Portrayal of Japan's Young Male "Herbivores"
From the spring of 2009 to the fall of the same year, several major English Euro-American media outlets furtively and prolifically reported on the phenomenon of Japan's young "grass-eating boys." Loosely defined as effeminate, non-sexually aggressive (albeit mostly heterosexual) males, herbivores apparently make up about 60% of the young male Japanese population;[1] Etymologically, this term comes from the literal translation of the Japanese word for sex: "relationship in flesh";[2] herbivores, logically, do not desire or actively pursue the flesh. The counterpart to the male herbivore is the female carnivore: a decidedly smaller subset of the population than the complimentary herbivore, carnivores embody all of those qualities that the herbivores have forsaken: they desire sex, careers, and other typically "masculine" pursuits.[3] However, female carnivores apparently did not merit the extensive coverage that their foils received; rather, they were briefly noted in many of the male-centric articles. The news articles officially reported that this generation of "effeminate" men and "masculine" women is directly related to economic stagnation in Japan. The reader-commentators on the online articles, however, have speculated plethora possible causes: from feminising chemicals in plastics, to a racial predisposition to effeminacy; from the homosexual/androgynous agenda, to a radical next step in human evolution. The media discourse and the related comments were often framed in implicitly or explicitly racist, imperialist, homophobic, transphobic, heterosexist, and/or misogynistic terms; although, a minority of authors and reader-commentators praised the herbivores as a counterpoint to the aggressive hegemonic masculinity of their native contexts. Therefore, it is useful to examine what the Euro-American discussion of Japanese herbivores reveals about Euro-American masculinities: including the anxieties, phobias, oppressions, and fascinations that make these masculinities unique. These articles have the potential to reveal more about the biases of the authors and the reader-commentators than about a trend in Japanese society.
The idea of "anxious masculinity" has been discussed extensively in academic spaces, as well as online feminist spaces such as feministing.com, and feministe.com since the 2004 publication of Stephen Ducat's The Wimp Factor: Gender Gaps, Holy Wars, and the Politics of Anxious Masculinity. The discourse of anxious masculinity essentially unpacks the ideal of Euro-American masculinity as a social construct, in the same manner in which various femininities have been deconstructed in feminism. One blogger on the aforementioned forum of feministing.com interrogates the ideology of American masculinity as such:
. . . ask yourself: What is essentially masculine? Why? What is emasculating? Why? Or perhaps more interestingly: If one is emasculated, what remains? Is what remains bad? Is what remains "not masculine?" Do then "masculine" and "feminine" remain useful  adjectives for anything?[4]
The theory of anxious masculinity is contingent upon the notion that masculinity is both defined in opposition to femininity, and also privileged over femininity; because masculinity is privileged, there exists in males with male privilege a vested interest in the maintenance of the status of masculinity over femininity, and this necessarily includes consciously or subconsciously defending masculinity from a seeming ". . .fantasy of being under constant siege by a multitude of external feminizing forces."[5] In this context, queer, trans, female, or non-dominant masculinities are also subjugated by the hegemonic ideal.[6] Within this framework, ridicule and exposure are used as modes of gender policing.[7] Therefore, even with so many pressing domestic issues stirring during the time period in question—such as Barack Obama's win of a Nobel Peace Prize, the death of Michael Jackson, and the Swine Flu pandemic—and so many foreign concurrent foreign policy issues—such as Nuclear testing in North Korea, viral videos of Iranian student-protesters being shot, Sweden assuming the presidency of the EU— media outlets displayed such and intense and fervent fascination with the "strange" manifestations of masculinity abroad precisely because Japanese herbivore masculinity is "feminizing," and therefore threatening to the precarious dominance of the Euro-American masculine ideal.
This reporting reveals a penchant for fetishisation, sensationalism, exoticism, and othering as a neo-colonial exercise; the bodies and attitudes of young Japanese males became a site on which media outlets and reader-commentators could re-affirm a sense of collective Euro-American masculine identity vis-à-vis the "deviant" masculinity of the Japanese. As the idea of the herbivores is instrumentalised in such a way, their presence not only demands a curious and probing Western gaze, but also validation. Indeed,
the 'nontraditional' male. . . presents an unknown, unfamiliar package; even if qualities the male exhibits are desirable, his difference demands justification, explanation. Being 'non' means 'not having.' . . . The very labeling of a person as the absence of something (such as labeling women as "nonmen") reifies the dominant group while subjugating the subordinate.[8]
In reporting on herbivores as if they were an exotic variety of caged zoo animal—a sentiment that is also implicit in the animalistic moniker "herbivore"—these media outlets dehumanize the herbivore–identified males to the point where their gender presentation could in no way be taken seriously. Accompanying photos and illustrations to the articles are also rife with voyeurism, ridicule, and stereotypes, as with the manga stylings and literalism of Figure 1.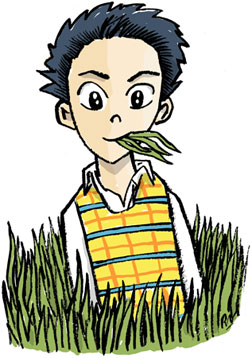 Figure 1. Illus. Robert Neubecker for "The Herbivore's Dilemma: Japan panics about the rise of 'grass-eating men,' who shun sex, don't spend money, and like taking walks," Slate.com.
In the above illustration, the herbivore is symbolically placed as the grazing cow, having presumably abandoned his carnivorous position in which he ate the steak; this implicitly labels him as a lower link on the food chain. Because herbivores are "effeminate," they are portrayed as somehow lacking: rather than gaining femininity, a negative attribute by the standards of the various articles, they lost masculinity, which is inexorably tied with the maintenance of the Japanese consumer economy.
Their denial of masculinity in the traditional sense is therefore not only threatening to the familial order, the Western world, and poor lonely carnivorous spinster women that they are not pursuing, it is also threatening to the sanctity of capitalism. Christine Beasly asserts that
. . .globalization, in creating a world gender order, involves the re-articulation of national hegemonic masculinities into the global arena. . . [and] the neoliberal market agenda.[9]
Therefore, with masculinity in such a tenuous and transitional state in relation to the global economy, the moral and consumer panic surrounding the herbivores reveals itself to be a manifestation of a wider culture of changing masculinities. Again, Koszka comments:
". . .[American masculinity] demands capitalist consumption and ownership for validation, holds with it entitlement to its own existence and ultimately asserts its own necessity with increased violence when threatened . . . it is a gendered mirror of capitalist dominance."[10]
In a globalising world, the Euro-American masculine ideal is potentially faced with the prospect of other competing masculinities—and markets—and is thus on the defense not only from internal feminizing and competitive forces, but external ones as well.
Undeniably, several of the article titles openly mock the perceived gender identity of herbivores by invoking femininity as a punitive stereotype, especially The Times' "Girly Men of Japan Just Want to Have Fun," The Independent's "Japan's Generation XX," and the Tribune's "'Grass Eaters' Make Hay in Japan." Additionally, several of the articles identify with incredulity that the herbivores have forsaken the three pillars of masculinity, which are (in order of importance): desire for heterosexual sex, desire for career success, and a penchant for personal fulfillment via capitalist consumption (see Table 1.).
Table 1. Selected Herbivore Articles
The confusion over why males would abandon the obviously privileged aspects of maleness is cause for speculation as to the origin of the herbivorous identity. As aforementioned, reader-commentators weighed in on the stories with their own "expert" opinions—an option that is interestingly only possible in the age of online news sources—which ranged from the obscure (feminizing chemicals in plastics), to the racist (the Japanese are just so weird), to the anti-oppressionistic ("it smacks of the transphobia of the American press"[11]). Article authors primarily asserted that the herbivores were born into a generation of economic stagnation, and therefore could not identify with their "corporate Samurai" fathers who had grown up in a period of prosperity. Additionally, David McNeill at The Independent attempts to provide an easily-digestible historical context for Euro-American readers by asking:
. . . could the grass-eaters be merely the latest flowering of an old tradition? Japanese culture has long had a strong element of androgyny: During the Tokugawa period (1603-1868), men played women and women dressed as men for the, while erotic art celebrated bisexualism and transgender role-playing. The traditions live on in the Takarazuka Review, which features women performers in dress suits playing men, and in Kabuki theatre.[12]
As a mode of satisfactorily justifying the "Strange and Apparently Ubiquitous Phenomenon" of herbivores in order to reject it, the articles also showed a privileged sense of entitlement to definitional power over the gender identities of the herbivores, attempting various and inconsistent transcriptions of Japanese terminology, such as: Soushoku danshi (Grass-eating boys), Soshokukei danshi (herbivorous males), Soshoku-danshi (herbivorous male), Ojyo-man (ladylike men), and Ojo-man (girly men). As with McNeill's above quotation, it becomes apparent that the authors have a minimal understanding of Japanese culture, language, and history, and yet do to some extent posit themselves as experts/pundits on the topic. Moreover, Maki Fukasawa, a female columnist who was writing a series of articles based on masculine consumer consumption habits, coined the term "herbivore" in 2006,[13] thus also assuming definitional power over a group to which she did not belong. And while the act of naming the herbivores as such can have the effect of ". . .giv[ing] space and language to lived experience and set the stage on which narratives of straight-queer men can find a home,"[14] it can also be an oppressive form of linguistic violence in which these men are not allowed a space to identify themselves.
Herbivore men, therefore, in their very passivity, are deemed to be a threat to the native masculine ideal of the reporters' contexts, as their lack of drive for sex, careers, and consumerism not only opens the door for females to take on agency as carnivores, but also threaten the capitalist and neoliberal ethos. As a defensive strategy against the possibility of other masculine ideals, Euro-American media outlets ridiculed, othered, re-named, and exposed the gender identities of young Japanese herbivore males, engaging in un-thoughtful acts of epistemic violence out of fear and anxiety.
---
[1]. Alexandra Harney "The Herbivore's Dilemma: Japan panics about the rise of 'grass-eating men,' who shun sex, don't spend money, and like taking walks," June 15, 2009.
Slate.com
.
[2]. Morgan Neill, "Japan's 'herbivore men' — less interested in sex, money," June 8, 2009. CNN.com.
[3]. Alexandra Harney "The Herbivore's Dilemma," June 15, 2009. Slate.com.
[4]. Davi Zielinski Koszka, "Guest Post: Masculinities? An essential question for freedom (reproductive and otherwise)," April 05, 2010, Feministing.com.
[5]. Stephen Ducat qtd. in Michael Thomsen, "Vaginophobia: Fear of Women in Gaming," January 5, 2010, The Escapist.
[6]. Eric Andersen, Inclusive Masculinity: The Changing Nature of Masculinities, 30-1.
[8]. Robert Heasley, "Queer Masculinities of Straight Men: A Typology," in Men and Masculinities, 2005.
[9]. Christine Beasley, "Rethinking Hegemonic Masculinity in a Globalizing World," Men and Masculinities, 91.
[10]. Davi Zielinski Koszka, "Guest Post: Masculinities? An essential question for freedom (reproductive and otherwise)," April 05, 2010. Feministing.com.
[11]. "Robert" commenting on "Japanese Herbivores, A Strange and Apparently Ubiquitous Phenomenon" by JimK, Wednesday, July 29, 2009, Teachthefacts.org.
[12]. David McNeill, "Japan's Generation XX: They are known as the grass-eaters: effeminate young Japanese men more interested in perfecting their looks than finding a job or starting a family." June 13, 2009. The Independent.
[13]. Morgan Neill, "Japan's 'herbivore men' — less interested in sex, money," June 8, 2009. CNN.com.
[14]. Robert Heasley, "Queer Masculinities of Straight Men: A Typology," in Men and Masculinities, 2005.
TOP
____________________________________________
Examining the Narrative of Imported European Homophobia in Japan
Both love between men and gender inversion have had a rich and storied history in the area now called Japan. From the intimately homosocial—such as Ueda Akinari's "Kikuka no chigiri" ("Chrysanthemum Tryst") and Jinneshaw Ikku's Tōkaidōchū Hizakurige (Shank's Mare)—to the overtly sexual—such as the twelfth century tale Torikaebaya Monogatari (The Changelings), Ihara Saikaku's "The Great Mirror of Male Love," and Genji Monogatari (The Tale of Genji)— literary representations of non-heteronormative relationships and encounters have been instrumental in shaping Japanese cultural and sexual identities. Additionally, remaining shunga (erotic) art prints of the sixteenth to nineteeth centuries depict various kinds of homoeroticism, and historically, Yarō kabuki (young man kabuki) featured adolescent males in eroticised onnagata (female role) parts. With such a diverse and nuanced history of sex and gender variance, it would seem that the prevailing assumption about Japanese sexuality—and Japanese history more broadly (that it is easily demarcated along the lines of before and after "Western" influence)—is insufficient. This pre-/post-Western influence metanarrative about Japan denies the agency of the Japanese as the primary makers of their own histories. It is biased towards an exaggerated emphasis on the interventions of the West largely because of a history of racism, colonialism, and orientalism, and the assumption a monolithic Japanese culture (versus an essentialised "West"). Therefore, the idea that love between men was socially and culturally acceptable in Japan before the introduction of Euro-American mores is somewhat reductive—not unlike "the acts paradigm" that was perhaps mistakenly extrapolated from Foucault's History of Sexuality, (Halperin 25-6)—the idea of a dichotomised pre-/post-European influence Japan has been privileged and repeated to the point of becoming the discursive truth. Thus it is useful to examine how foreign and domestic ideas about sexuality interacted in Japan, rather than examining how one privileged set of ideas influenced another.
Several authors, such as Tsuneo Watanabe and Jun'ichi Iwata, as well as Gregory Pflugfelder have written extensively about Japan's "homosexual" history, especially focussing on the monastic tradition of nanshoku (male colours) and samurai tradition of shudo (the way of the youth). In the context of Buddhist monasteries, monks commonly had sexual relations with their chigo (acolytes), spawning the erotic literary tradition of Chigo Mongatari (acolyte stories); records of such practices date back as far as 985 CE (Luepp 35). Love between an older man and a younger boy was seen to be the highest form of masculine expression among members of the samurai warrior class, so integral to the samurai way of life, in fact that the anonymous author of Inu Tsurezure (A Dog's Idle Hours) warned "if [the samurai] should forget it, it will not be possible for [them] to maintain the decencies, nor gentleness of speech, nor the refinements of polite behavior (Wantabe & Iwata 113). As a refined and cultured practice, nanshoku and shudo likely signalled social class as well as manners. Male identity in these particular contexts was strongly entwined with the misogynistic notion that love between two men was purer than the feminising love between a man and a woman, which effectively erases love between two women as a subject of interest, and as per the social class analysis, leaves women out of the highest echelons of manners and refinement. As such, both nanshoku and shudo were not unlike Ancient Greek pederasty in terms of serving a social and erotic function in male socialisation (Calimach), and in maintaining a gendered status quo. However, while the parallel to the somewhat analogous institution of pederasty in Western history seems obvious, it is also indicative of the Western bias in the study of Japanese historical records and literature in-translation; the assertion of this parallel is, nevertheless, omnipresent in the sources on the subject, one article even being subtitled "Native tradition and Hellenic Echo" (Calimach).
It is also problematic to assert that because these narratives exist that the whole of Japan was accepting of male-male love, as throughout the periods of history in question (the Heian, Kamakura, Ashikaga, and Sengoku periods) the Japanese state was not, in fact, unified as "Japanese," nor did it cover much of the same geographical area as it does currently. The colonisation of the various islands of Japan, and the subjugation of the indigenous populations (such as the Ainu, Burakumin, and Ryukyuan people) complicates the narrative of a distinctly "Japanese" acceptance of male-male love, because while these peoples may have been subsumed under the umbrella of a Japanese state and identity, they surely had distinct languages, cultures, and ideas about sexuality. The Ainu especially have a clearly gendered mythology that places a great level of importance on the complimentarity between male and female deities (Yamada 239).  Therefore no singularly accepted notion or standard of the acceptance of male-male love can be attributed to Japan as a whole, but rather, incidences of male-male love among the social elite (monks and samurai in particular) can be seen as an indicator of class, gender and/or racial privilege.
As previously mentioned, in scholarly narratives about the history of Japanese sexuality, the historical moment of transition from widespread tacit acceptance of male-male love to widespread homophobia corresponds with Western contact. Of the eventual disappearance of shudo, Andrew Calimach asserts ". . .Western influence had a decisive role to play in this reversal of fortune. From their very first contacts with the remote island empire, European explorers and merchants bristled at the 'loose morals' and 'depravity' of their hosts." Portuguese traders made the first such contacts in 1543, and were ironically referred to by the Japanese as nanban (southern barbarians) because of their unrefined manners and depravity. Jesuit Missionaries soon accompanied their merchant countrymen, and converted thousands of Japanese locals to Catholicism, only to be persecuted along with their converts by the Bakufu (Shogunate). The Dutch soon followed suit in making contact with Japan, and upon their arrival in 1600 they were termed Kōmō (red hair) by the Japanese. The distinction drawn in the classical "clash of civilisations" or "East meets West" narrative is that Japan, with its Confucian, Taoist, Buddhist, and Shintō traditions, stressed collective and filial identity, (Jansen 548) having no concept of "sin" (Calimach); whereas, individualistic identity, contingent upon construct of "free will" and "sin," took precedence for the Europeans because of the Christian tradition. In this narrative, male-male love did not threaten the filial order, as it was not practiced to the exclusion of heterosexual, offspring-producing intercourse; it did, however, threaten the individualistic Christian order, because engaging in non-reproductive intercourse was deemed to be sinful (Genesis 19:24-25, Leviticus 18:22, Romans 1:26-27, St. Augustine's Confessions). While the notions that support this idea are accurate to some extent, the manner in which this narrative is disseminated privileges the idea of Western individualism, as if it were a gift to be brought to the Japanese (Hurley). Japan is painted as a backwards, "conservative" place in relation to the "liberalising" force of Western ideological and epistemic colonialism (Jansen 549).
In part because of various encounters with and incursions of "Others" of European, Korean, and Chinese origins, and in part because of the unstable domestic political climate of Japan following the Sengoku (Warring States) period, Japan entered a period of sakoku (locked country, or isolationism) under the Tokugawa shogunate in 1633 (Jansen 541). The only consistent channel to the West that remained during this period was the small Dutch trading post, Dejima, near Nagasaki, which was highly regulated and guarded for the duration of the Edo period (which lasted until American Commodore Matthew Perry violently forced the country to come out of isolation). At Dejima and Nagasaki, the field of rangaku (Dutch Studies) was born, which, according to some scholars was a ". . .harbinger of freedom and rationality and [an] agent of modernization" (Jansen 549). Marius B. Jansen further asserts of rangaku, "[i]t was natural [for the Japanese] to see the Western advance with trepidation and fear. Even so, a realistic appraisal of Western strength operated to discourage suicidal resistance to that advance and to work for a longer-range response to it," and "[w]hether one thought Westerners good or evil, friendly or dangerous, their work deserved attention." (Jansen 550) Implied in these discussions about rangaku, is the idea that Dutch—or by extension Western—learning had a greater value than existent Japanese learning, that Western learning carried with it Enlightenment and civilisation proper. This notion of unquestioned Western hegemony remains critically unexamined even in Encyclopaedic sources (Encyclopaedia Britannica Online, s.V. "Japan: The Arrival of the Europeans").
Particularly in the burgeoning pseudo-biomedical sciences, Western discourses about anatomy were and are regarded as standard and "correct," chiefly when compared to traditional Chinese sources. Morris F. Low attributes differences between Japanese and European medical understandings of the body to the lack of dissections and autopsies:
. . .dissections were occasionally allowed in Japan for the purpose of confirming the theories of anatomy propagated by Chinese medicine, but it was generally considered contrary to Confucian tradition to damage the body which one received from one's parents. Also, Shintō belief encouraged the idea that impurity (kegare) was associated with death, and that it was something to be avoided. (348)
Western medicine, and its movement toward the pathologisation of same-sex love and gender variance, did to some extent have a marked interaction with Japanese ideas about the body and sexuality. However, the practice of Western medicine met with severe resistance from the Bakufu; interestingly, this resistance is characterised as unreasonable and its punitive enforcements draconian, as opposed to being understandably defensive, especially in Jansen's text on rangaku: ". . .[the] steady spread and diffusion of study and knowledge of the West, despite the curbs of fear and force [was due to the] ever increasing awareness of the utility of Western science and technology." (551) Early disseminations of Western medicine, however, once syncretised with Japanese and Chinese medicine, opened the door for the twentieth century trends of sexology and eugenics, which further established same-sex behaviours as socially deviant in Japan. Translated medical literature also interacted with Japanese visual representations of the erotic and the anatomical, for example, Morris Low notes again that there is a:
. . . difficulty in distinguishing the sex of figures depicted in ukiyoe (colour woodblock prints), where a sword and hair ornaments may provide the only clues. But in terms of more anatomically explicit representations of gender, historians             have highlighted the significance of the translation of a German anatomy text into Japanese in 1774. (Low 346)
Therefore, it is very important in terms of conceptualizing of the history of male-male love and gender variance in Japan to take in to account the considerable influence of Western cultural imports, especially medical knowledge which radically altered existing domestic ideas about embodiment, but it is equally important to take in to account the ways in which Western narratives remain self-congratulatory and often uncritically examined. The way in which pseudo-biomedicine and biomedicine are heralded as vastly superior to domestic traditions is another Western trope, which has been employed for purposes of colonization and domination in numerous areas of the world, including Africa, (Cohen 26) and North America (Niezen 464).
Just as the scholarly search for evidences of a historical gay, lesbian, or queer identity in the records of the European Renaissance has contemporary political implications, so too does the equivalent Japanese search. For that reason it is critical that when studying the historical legacy of Japanese same-sex love, desire, and gender variance, scholars take time to examine how the issues at hand are interrogated and then re-communicated. Indeed, examining how questions are asked and the goals of the asker is just as important as answering the question, as narratives can be instrumentalised for purposes of maintaining norms, and also denaturalizing them. In the aforementioned Torikaebaya, for example, ". . .later commentators have presented the work through the lenses of their own sex/gender systems, and over the centuries the tale has variously appeared as unobjectionable, pornographic, ethical, and perverse." (Pflugfelder, 348) The same tale has also been cited as an early Heian narrative of homosexuality, and has thus been important for the formation of a uniquely Japanese queer identity and heritage (Pflugfelder, 348). In examining Japanese sexuality from a Western perspective, it is important to recognize the Western biases of the history and work that has previously been done, in order to allow room for a unique and diverse set of Japanese narratives about Japanese sexuality and its history.
Bibliography
Calimach, Andrew. World History of Male Love, "Homosexual Traditions", The Beautiful Way of the Samurai, 2000 <http://www.gay-art-history.org/gay-history/gay-customs/japan-samurai-male-love/japan-samurai-homosexual-shudo.html&gt;.
Cohen, William B. "Malaria and French imperialism," in: Journal of African History, Vol. 24 1983. 23-36.
Halperin, D. "How to do the History of Homosexuality." Chicago: University of Chicago Press. 2004.
Hurley, Adrienne. Lecture: History of Sexuality in Japan. McGill University, Montreal, Quebec. 2010.
Kerr, George H. Okinawa: The History of an Island People. revised ed. Tokyo: Tuttle Publishing, 2000. 141, 144.
Leupp, Gary. Male Colors: The Construction of Homosexuality in Tokugawa Japan. University of California Press, 1997.
Pflugfelder, Gregory M. Cartographies of desire: male-male sexuality in Japanese discourse, 1600-1950. Berkeley: University of California Press, 1999.
Pflugfelder, Gregory M. "Strange Fates: Sex, Gender, and Sexuality in Torikaebaya Monogatari." In Monumenta Nipponica, Vol, 47., No. 3, 1992. 347-368.
Ronald Niezen, "Healing and Conversion; Medical Evangelism in James Bay Cree Society." Ethnohistory. 44 (3): 463-491.
Watanabe, Tsuneo & Jun'ichi Iwata, The Love of the Samurai: A Thousand Years of Japanese Homosexuality. GMP, London, 1989.
Yamada, Takako. "Gender and cultural revitalization movements among the Ainu." Senri Ethnological Studies 56, 237-257.
TOP
____________________________________________
National, International, Global:
Tracing the Origins of the Global Public Health Movement
Since the inception of several Global Public Health Organisations in the 1990s and 2000s—including the Bill and Melinda Gates Foundation, The Girl Effect, and The Global Fund—the definition of "Public Health" has undergone a rapid transformation. In fact, the definition of Public Health has been implicated since the 1800s with evolving modifiers: National-, International-, and Global- being the three most prevalent. From an anthropological perspective, tracing the origins of these various trends in Public Health is a multi-faceted question, as key aspects and terms of the discourse, such as "humanity," "life itself," and "the social," have had diverse and changing definitions throughout different historical moments. Certainly each incarnation has been contingent upon the idea of "health for all," but who is included in that "all" and how "health" is defined are quintessential questions of anthropological inquiry.
In understanding the discourse about Public Health, it is first useful to trace the trajectory of some of its key concepts, the first being "humanity." The notion of an essentialised humanness that was shared by all—humanity—emerged around 1800, largely as a response to increasing European contact with other peoples.[1] Implicit in this notion is the paternalistic conceit that Europeans had "achieved" humanity, whereas in others true humanity was a latent possibility, reliant upon Colonial rule to blossom into its truest form: in this conception, humanity was either a fact, hidden under obstacles such as ill health, or a project, which required Colonial investment.[2] In either sense, humanity was an endeavor, and an integral part of the execution of said endeavor was the heady task of providing "health for all." Anthropology emerged in this climate as an academic and Colonial discipline—a means of making sense of those whom the Europeans believed to be "peoples without history."[3]
The idea of Public Health also hinges upon a population conceiving of itself in biological terms, having a widespread definition of what constitutes "life itself," and creating an episteme based on the intrinsic value of biological human life. Marx and Engels are the first "biopoliticians" in this sense;[4] they wrote of citizens as a biological fact, of "historical materialism"—that is, history as a series of class struggles over access to the means to fulfill material needs, rather than a Hegelian series of epochs.[5] In this conception of history, each and every mode of production also implies a social structure—and nearly every social structure is predicated on the existence of the "haves" and the "have nots." For Marx and Engels, only in eradicating the different between the two by moving beyond material wealth could the project of humanity be achieved. Hannah Arendt, in The Human Condition, problematises this notion by drawing a distinction between labour and work, labour being the effort to provide for one's basic material needs, and work being craftsmanship.[6] To her, Marxism would reduce every person to a labourer/slave, and therefore extinguish the light of the essential "humanness" in work and intellectual pursuit.[7] Her conception of what is truly humanity-achieving lies in participation in the polis and intellectual life.
Foucault further complicates this picture; he wrote of "biopower"—the interest of the state in the vital characteristics of its populace—as a means of social control in the nation-state (as opposed to the punitive power of the Monarch).[8] In the nation-state, state power is subject to the health and wellness of the populace, as the populace is responsible for going to war, and economic/population growth. In Foucault's conception, national projects were and are necessarily racist projects, as the investment in ones' own society over another is by its nature exclusionary; even before pseudo-scientific understandings of race were born, the idea of the nation as a race existed, making possible atrocities such as genocide that are fuelled by an idea of preserving one's own nation or race.[9] In this schema, the history is a series of social as opposed to class conflicts; Foucault also pins the emergence of the idea of "life itself" at the junction of Monarch to nation-state;[10] the vital statistics on the populace were at this time coded as social.
All of these changes wrought in the discourse surrounding human life were fuelled by the emerging social questions and challenges of industrialisation, namely a working-class of urban poor (à la Victor Hugo's Les Miserables) who lived in circumstances that readily incubated disease and facilitated its rapid spread.[11] Social science, predicated at the time on the idea of death as a "social disease,"[12] emerged as a response to these conditions, and also as a ready arm of state "biopower" in the form of systematic sanitary surveillance. The epidemic of historical consequence in this context was cholera, which spurred the first real Public Health Act in Britain in 1848.[13] This act and its associated measures aimed to systematically eradicate the disease from the British populace by instilling stricter port regulations, quarantines, and various attempts at hygiene improvement for vulnerable populations, and it was steadily and continuously adapted to seasonal conditions and epidemiological discoveries.[14] Additionally, continental cholera epidemics led to an unprecedented level of international cooperation in sharing resources and data about the disease and national Public Health measures, as exemplified by the first International Sanitary Conference at Paris in 1851, and the following events in 1865, 1875, and 1885 in Constantinople, Vienna, and Rome respectively.[15] Along with the implications for the fight against cholera, each of these conferences was also the site of nation-state forming discourse about social control: a hardening of borders, more stringent trade and immigration rules, definitions of social outcasts (such as gypsies and pilgrims), and increased surveillance.[16]
During this time, Britain laid down a series of publications and acts which solidified the role of the state in health during the cholera outbreaks of the 1800s, including the Quarantine Act on 1825, the New Poor Law of 1934, The Chadwick Report in 1842,[17] and the additional Public Health Acts of 1866 and 1875.[18] Additionally, in 1907, the Office International d'Hygiène Publique (OIHP) was established in France as an international regulator and monitor of the spread of cholera.[19]
Amidst all of the domestic turmoil with seasonal cholera pandemics, European nations with colonial projects were continually encountering new diseases in more tropical climes. Tropical diseases became a manner in which colonialists could conceptualise of the spatial "otherness" of the colonies: a sort of epidemiologically based imperialism, which was focussed on making the tropics healthier for Europeans, and tempering the "inconveniences" of dealing with an unhealthy colonised workforce. Malaria (meaning "bad air" as per miasmic disease theory, for it wasn't until between 1879-1897 that malaria was examined under germ theory)[20] was literally thought to be caused by the air of a place. The developing biomedical discourse surrounding disease became an additional vector for the justification of continued colonial occupation, as it was assumed that the Europeans were "bringing" Public Health to the indigenous population to combat the climactic challenges of the place.
Domestically, following the major cholera epidemics of the mid- to late-1800s was the development of the welfare state and various forms of social security in the late-1800s. Otto von Bismarck introduced a range of social security measures in the 1880s that began to form a German Social Safety net, such as the Health Insurance Law of 1883.[21] By 1920, following the First World War, nations such as Britain and Sweden had also established a similar system of social security and Public Health statutes.[22] In essence, the growing European trend towards the welfare state was the widespread ideological transition to the "national social," and the "rule of experts."
Following World War I, the Rockefeller Foundation (est. 1913) in the United States became a leader in the field of international health.[23] Its goals were based on the idea of achievable projects, such as the eradication of diseases such as hookworm and yellow fever in the developing world.[24] Its purposes were dual: both to protect American borders from the diseases of "others," and to ensure American political interests were protected. There was an idea that healthy nations and citizens do not turn to communism—or other similarly "anti-American" ideologies—and that American national interests could be served by attempting to aid other national populations with health projects. The Rockefeller foundation was also heavily involved with the League of Nations Health Office, which was comparably a much more administrative and research-oriented institution.[25]
However, in this climate of addressing International Public Health needs, there was also the widespread and growing post-WWI trend of eugenics, a pseudo-scientific theory that saw "racial degradation" as the source of social ills, and prioritised certain lives over those that were believed to be more base. Eugenics was informed by history and social factors, but was coded as biological.
When the League of Nations collapsed during World War II, so too did its health arm, and it was not effectively replaced until the creation of the World Health Organisation (WHO) in 1948, which incorporated the epidemiological service of the Office International d'Hygiène Publique.[26] Also, during the 1940s, such initiatives as the Beveridge Report of 1941 in Britain solidified the idea of the Welfare State and the creation of National Public Health services.[27] Parallel to these developments were the creations of the World Bank and the International Monetary Fund at the Bretton Woods conference in 1944; which, led to a further standardization of commerce and exchange. Amidst all of these new institutions, the WHO was largely created to address the gaping health care needs following the devastation of the war.[28] It was also incepted in a climate of Cold War, decolonization, and the rise of new nations-states, and was integral in defining how, exactly, the international arena would be re-constructed after the war.
The WHO was different and more efficacious that the League of Nations Health Office in that it had universal membership, and could thus deliver projects much more easily, and it operated within the framework of existing state Public Health systems.[29] Like the British cholera eradication projects of the 1800s, the WHO was initially focused on preventive management of disease as well as standardisation of biomedical health discourses via education and "expert committees."[30] Soon, however, the WHO became a more educational body in the midst of several changes to the climate of International Health.[31] The WHO definition of primary health care depended much less on mere biology, but was rather defined as a state of "compete physical, mental, and social well-being";[32] additionally, it depended on existing National Public Health Care services as the means to achieve International Public Health. Implicit in the early goals of the WHO is the idea that science, technology, and research were essentially apolitical domains, governed solely by biological realities as determined by experts, which was an essential component of the idea of the national social as well.[33]
However, in the 1960s, there was a growing politicization of health in the larger movements towards social change that characterised the decade, such as the civil rights movement. It became apparent in these movements that science and technology, particularly medical technology, were not, in fact, apolitical.[34] Malaria eradication became a theme in terms of developing countries, and health organizations shifted their focus from the areas of consequence to trade, such as ports and major cities, to the rural.[35] This can be seen as a generational rift, a part of a larger worldwide trend that was characterised by a rejection of the "rule of experts" by the post-WWII generation.[36] Health, no longer just a technical/scientific project, but a socio-economic one as well, was pursued through a growing number of community-based projects; a decidedly more "bottom-up" as opposed to "top-down" model of policy-making and knowledge production was sought as an ideal.[37] This idea was furthered with the declaration of Alma Ata in 1978, which stated that, "the people have the right and duty to participate individually and collectively in the planning and implementation of their health care."[38] Alma Ata was also a critique of the militaristic attempts to eradicate malaria in the developing world between 1955-1978, which had largely been comprised of pesticide spraying—short-term operations in which the social context of diseases such as malaria was ignored in favour of the pathogen. Instead, the declaration advocated for horizontal (as opposed to vertical) healthcare approaches:
. . . primary health care is essential health care based on practical, scientifically sound and socially acceptable methods and technology made universally accessible to individuals and families in the community through their full participation and at a     cost that the community and country can afford to maintain at every stage of their development in the spirit of self- reliance and self-determination.[39]
These proclamations, however were too vague for some, and lacked measurable, quantifiable, and achievable goals. Counter to the sentiments of Alma Ata was an alternative movement for Selective Primary Health Care (SPHC), an "intermediary" step towards "health for all by the year 2000,"[40] that asserted that vertical programs, if implemented properly, could be an effective way to fight disease in a cost-effective manner.
Proponents of Selective Primary Health Care believed that the Primary Health Care approach was too idealistic and unachievable from an economic perspective, inexorably tying together the politics of Public Health with the economy.
The lofty ideals of Alma Ata were thus short-lived, as in the 1980s, the World Bank and the International Monetary Fund entered the field of health. This was during the rise of neoliberalism, in which the efficacy of the "national social" was questioned in an ethos that favoured market forces. The World Bank released a report in 1987 about "financing health," in which it clearly advocated for a user-funded health services in developing countries.[41] The ideas and rhetoric from Alma Ata were essentially appropriated in the neoliberal discourse, and instrumentalised in a vastly different way; whereas under Alma Ata the right to participate in defining the parameters of one's care was determined by one's input, in the World Bank ideal the right to participate is determined by one's dollar—both can be seen as "bottom-up" in some sense, however the neoliberal discourse prioritises the mass-market as the determinant of health needs and services as opposed to the mass-participation of citizens in social programs. In addition, throughout the late 1980s and early 1990s the procedures and efficacy of the WHO were questioned in an attempt to understand where, exactly, an institution created in the 1940s fit in to the new climate of Public Health as an economic question.[42] Some of the key terms of the Public Health discourse were also called into question, including Disability Adjusted Life Years (DALYs).[43] Vital health, under neoliberalism, became the responsibility of the individual and not the state, creating a vacuum of accountability for health that Non-Governmental Organisations soon began to fill.
In 2000 Gro Harlem Bruntland, then Director-General of the WHO, commissioned the Sachs report: Macroeconomics and Health: Investing in Health for Economic Development.[44] This report solidified the new position of the WHO, which was previously in somewhat of a crisis, as a leader in Global development via the improvement of Global Health, as opposed to being a leader in Primary Health Care, expertise, and education.
Thus the Global Health movement was born as a response to the failings of neoliberalism to address the comprehensive health needs of vulnerable populations outside of the context of development, but is also a thoroughly neoliberal idea in that industry (ie. the Bill and Melinda Gates Foundation) assumes responsibility for addressing "doable" health concerns. Global Health, unlike International Public Health, is supra-national—it does not depend on previously established National Public Health services to function, but rather on "creative capitalism,"[45] and market-driven initiatives to provide such basic medical needs as vaccines for curable diseases, and also to create artificial markets for medical research and development. Global Public Health is a technical and accomplishable goal, and a seemingly necessary one at that. As was stated in The Girl Effect video: "it's no big deal, just the future of humanity,"[46] meaning that "humanity is at stake in the field of health."[47] As a fiscal and technical project, the modern arena of Global Health is dominated by the Bill Gates' idea that, "given the right approach it is possible to save thousands of lives in a short period of time."[48] Life—each and every biological life saved—is seen as a measure of the success of Global Health endeavors. Thus what is unique about this moment in history is that, theoretically, each one of these lives is deemed to have equal value, and that there is something intrinsically valuable about "life itself" in the Global arena.
---
[1] Tobias Rees, Lecture: "Second Hour: Life Itself I," McGill University, Montreal, Canada, January 14, 2010.
[2] Ibid.
[3] Eric Wolf, Europe and the People Without History, 4.
[4] Tobias Rees, Lecture: "Second Hour: Life Itself I," McGill University, Montreal, Canada, January 14, 2010.
[5] Karl Marx and Friedrich Engels, "The German Ideology," s.v. A. Idealism and Materialism.
[6] Hannah Arendt, The Human Condition, 72.
[8] Michel Foucault, History of Sexuality I: An Introduction, 135-7.
[11] Michael W. Flinn, "Introduction," to Edwin Chadwick, Report on the Sanitary Condition of the Labouring Population of Great Britain [1842], 3.
[12] Janet R. Horne, A Social Laboratory for France, 18.
[13] Michael W. Flinn, "Introduction," Edwin Chadwick, Report on the Sanitary Condition of the Labouring Population of Great Britain [1842], 62.
[14] Anne Hardy, "Cholera, quarantine and the English preventive system," 254-6.
[16] Valeska Huber, "The Unification of the Globe by Disease? The International Sanitary Conferences on Cholera, 1851-1894," 468.
[17] Michael W. Flinn, "Introduction," to Edwin Chadwick, "Report on the Sanitary Conditions of the Labouring Population of Britain," 1-40.
[18] Anne Hardy, "Cholera, quarantine and the English preventive system," 258.
[19] Tobias Rees, Lecture: "First Hour: A History of International Health II," McGill University, Montreal, Canada, February 2, 2010.
[20] William B. Cohen, "Malaria and French Imperialism," 30 (footnote 28).
[21] Dorothy Porter, "Health and the Rise of the Classic Welfare State," 198-9.
[23] Anne Emanuelle Birn, "Wa(i)ves of Influence: Rockefeller Public Health in Mexico, 1920–            50," 381.
[25] Martin David Dubin, "The League of Nations Health Organisation," 56.
[26] Brock Chrisholm, "The World Health Organisation," 1022.
[27] Dorothy Porter, "Health and the Rise of the Classic Welfare State," 217.
[29] Theodore M. Brown, Marcos Cueto, and Elizabeth Fee, "The World Health Organization and the transition from 'international' to 'global' public health."
[30] Brock Chrisholm, "The World Health Organisation," 1022.
[31] Theodore M. Brown, Marcos Cueto, and Elizabeth Fee, "The World Health Organization and the transition from 'international' to 'global' public health."
[32] Brock Chrisholm, "The World Health Organisation," 1021.
[33] Tobias Rees, Lecture: "Second Hour: International Health III," McGill University, Montreal, Canada, February 11, 2010.
[37] Ibid.
[38] "Declaration of Alma-Ata," International Conference on Primary Health Care, Alma-Ata, USSR, 6-12 September, 1978, Article IV.
[39] Ibid., Article VI.
[40] Gil Walt, "WHO Under Stress: Implications for Health Policy," 134.
[41] World Bank Policy Study. Financing Health Services in Developing Countries: An Agenda for Reform, 3-6.
[42] Gil Walt, WHO Under Stress: Implications for Health Policy, 1.
[43] Sudhir Anand, Kara Hanson, "Disability Adjusted Life Years, A Critical review," 685.
[44] Report of the Commission on Macroeconomics and Health, Presented by Jeffrey D. Sachs,             Chair, to Gro Harlmen Brundtland, Director-General of the WHO, Macroeconomics and Health: Investing in Health for Economic Development, 7.
[45] Bill Gates, "Remarks of Mister Bill Gates, Co-founder of the Bill and Melinda Gates Foundation, at the World Health Assembly," Geneva, Switzerland, 2005.
[46] Online Video, The Girl Effect, [http://girlefeect.org,] accessed March 10, 2010.
[47] Tobias Rees, Lecture: "First Hour: Global Health Emerges as an Informed Response," McGill University, Montreal, Canada, March 2, 2010.
[48] Bill Gates, "Remarks of Mister Bill Gates, Co-founder of the Bill and Melinda Gates Foundation, at the World Health Assembly," Geneva, Switzerland, 2005.
TOP
____________________________________________
Abstract: Despite the widely-held conception that Canada provides 'universal' health care for its citizens, there are a number of gaps in the system that disproportionately affect those who do not conform to gender and sex norms, namely trans and intersex individuals. In examining the literature on the subject, from both a biomedical and an anthropological perspective, it becomes apparent that these gaps exist not for a medically legitimate reason, but because of social norms and prejudices that serve to police and pathologise the lives of gender-/sex-variant individuals. Much research is yet to be done on exactly how this functions in the Canadian context.  However, the last few decades of feminist, queer, trans, and intersex activism have been critically examining the biomedical system and how it interacts with and erases gender-/sex-variant Canadians.
Sexual Diversity in Canadian Healthcare:
The Policing and Pathologising of Gender-/Sex-Variant Lives
One of the quintessential questions of critical medical anthropology is: "what is revealed and what is concealed in our commonsense perceptions of reality?"[1] It was first asked by Nancy-Scheper-Hughes in her work Death without Weeping, which examines the "somatisation of distress," that is, the cultural process  whereby social problems are made biomedical.[2] Her question rings especially true when one engages with 'universal' healthcare in Canada as it relates to gender-/sex-variant individuals. It is important to ask of any health system which claims universality: "[w]hose interests are being served? Whose needs are being ignored?"[3] A number of the works on gender-/sex-variance conceptualise of 'disorders' such as Gender Dysphoria (GD) and several Disorders of Sexual Development (DSD) as social, and not biomedical, problems, while simultaneously advocating for health coverage for processes such as transitioning and consensual genital feminisation/masculinisation for intersex individuals. This presents a dilemma for the gatekeepers of biomedical care and coverage in Canada; one that has not been resolved, as biomedicine hinges upon a clearly defined, discrete pathogen to diagnose and treat.[4]
In this paper I will be using the term "gender-/sex-variant" as an umbrella moniker for the many identities (and behaviours) that are penalised by the biomedical system for transgressing—with or without intent to do so—the boundaries of sex and/or gender. This includes anyone who plays with the boundaries of the gender/sex system, be they transsexual, transgender, cross-dressing, intersex, two-spirited, resistant to classification, uniquely self-identified, or waiting to be classified. However, most of the literature is focussed on trans or intersex issues. 'Gender-/sex-variant' may not be the most accurate term in some cases, as the reified categories of "gender" and "sex" belong to a specific culture and its discourses, and not to nature; conscious of that, for the purposes of this paper I must be slightly reductive. I have also taken into account in using this term that the category of "sexuality" is oft considered to be a subset under these two categories, and is frequently framed in the same "nature versus culture" terms; however, since the discourse about sexuality could not exist independently of the discourses of sex and gender in western societies, I will not be discussing it outside of that context.
The literature I will be examining arises largely out of Queer scholarship; although, I will be cross-examining much of this literature with concepts from the field of Medical Anthropology in order to critically examine the concepts of health, wellness, and 'universal' healthcare in Canada as they relate to gender-/sex-variant individuals. All of the sources I will use fall between 1946 and present, as the former date was the year in which the Saskatchewan Hospitalisation Act was passed, laying the foundation for socialised medicine in Canada.
The conversation about these larger issues (health, medicine, gender, sexuality, et cetera) is incredibly diverse in the west: its scope ranges from myriad online sources to government publications, from academic journals to film documentaries. Accordingly, the contributors come from diverse standpoints, making it necessary to narrow the scope of the literature under examination. I will focus on the works of anthropologists such as Arthur Kleinman, and Nancy Scheper-Hughes, who examine health, wellness, and/or gender; additionally, I will engage with the works of various gender/sex-variant writers, scholars, advocates, and organisations, such as Cheryl Chase of the Intersex Society of North America, Les Feinberg, and Vivian Namaste. Much of the scholarship in both of these fields is based in the American context; while it is useful to use American sources when studying generalised North American culture, many of these sources are much less relevant when examining the idea of 'universal' healthcare. Canadian sources are likely circumscribed in part because of the larger volume of American material, and the vestigial imperialist tendencies within the American Queer movement, which tend towards exporting American-made identities trans-nationally. There are, however, several Canadian sources available within academic journals, and also a few chapters within books on more general topics, which usually deal with very specific research contexts (such as downtown Toronto or Vancouver). The limited context of research also reflects its limited scope, as a study based in Toronto would not have all of the same variables as a study based in Alberta, where, for example funding for sex-reassignment was cut during the recession under the Conservative government, but nonetheless, urban-centric research is all that is available.
Critical Medical Anthropology and Gender
"The view through this lens is skewed, for I am slicing, dissecting, and holding up to the light the diseased tissue of the social body gone awry."[5]
The gender system is repeatedly questioned within the discursive model of "the political economy of health" which challenges any notion that sickness and illness "just happen" as random misfortunes,  and asserts that ill health is intimately linked to being disempowered within certain sets of societal social relations.[6] This relationship does not necessarily indicate direct causation, but the strong correlation is undeniable. As an example, in Canadian society, as in most of the western world, women face clinical encounters in which their truthfulness, and sense of their own body is repeatedly questioned by the medical practitioner, often causing pernicious health problems like anaemia to be overlooked.[7] This is largely due to the long history in the west of women being perceived to be hysterical and weak, a societal assumption from which the clinician is certainly not exempt.
Largely due to second-wave feminism, the gender question has primarily been couched just in terms of "women" and "men" as it is above.  Certainly much is owed to earlier feminists for problematising and continuing to challenge the unequal power relations between these two genders. However,  this period feminist literature, in seeking to liberate those bound in the category of "woman," has historically neglected gender-/sex-variance, and reinforced oppressive dichotomous relationships.[8] Feminism has especially had a complicated history with trans individuals, with prominent feminist public figures such as Michele Landsberg and Mary Daly openly despising and advocating for the exclusion of trans people, and promoting the preservation of biologically essentialised  "woman-only" spaces. Nonetheless, the issue of gender being an obstacle in access to fair and equal health services was initially raised in feminist-inspired work on the political economy of health, and thus opens the door for critically examining gender-/sex-variant individuals' access to health services. Additionally,  "third-wave" feminism has  been much more accessible to gender-/sex-variant individuals, as the framework of "intersectionality" that is the hallmark of this wave is critical of the exclusion and unexamined privilege that characterised the second-wave.
Canadian Case Studies
Much work is yet to be done on how gender-/sex-variance  affects access to health care, and the quality of that care in Canada. Small-scale studies on related topics, such as "A 'normative' homeless woman?: Marginalisation, emotional injury and social support of transwomen [sic] experiencing homelessness," identify the issue of unequal access and treatment in Canadian healthcare settings without exploring the idea further, simply remarking in the article: "[trans women] did not seem to find . . . social support in 'mainstream' agencies, in particular from healthcare services (such as hospitals, health centres, clinics)."[9] This particular paper identifies five other studies of trans people and health care; however, all five are based in the United States and deal more specifically with HIV/AIDS prevention and management.[10]
In what is one of the most comprehensive and current sources on trans politics and issues in Canada, Invisible Lives: the Erasure of Transsexual and Transgendered [sic] People, Vivian Namaste devotes three chapters to health and healthcare in a Canadian context. The three intertwined issues within these chapters support her thesis that transsexual and transgender subjectivity is erased in North American contexts through structural and institutional means of silencing.[11] The seventh chapter, "Access Denied," deals with Health Care and Social Services in Toronto (I.).[12] The eighth, "Clinical Research or Community Health," is also based in Toronto, and discusses how transsexual and transitioning individuals feel about gender identity clinics (II.).[13] The ninth chapter, "The Administration of Erasure," is based in Quebec, more specifically in Montreal, and connects the concepts of bureaucracy, and marginalisation with the administration of HIV/AIDS services (III.).[14]
(I.) The report from which this chapter stems was written for a Health Canada-funded project entitled "Project Affirmation," which sought to assess "health care and social services for sexual minorities . . . in the province of Ontario," (including transgender people under this umbrella).[15] Namaste writes specifically about hormones in the first segment of this chapter, indicating the difficulty TS/TG persons face when trying to find a doctor who will proscribe hormones[16] or provide the continual patient monitoring necessary for such treatment.   .[17]
(II.) Access issues are somewhat mitigated through Gender Identity Clinics, but these institutions are not without their problems. In this chapter, Namaste examines the controversies surrounding responses to the Gender Identity Clinic of the Clarke Institute of Psychology. Contrasting opinions are presented, including arguments from medical professionals that transsexualism is a mental illness, which should not be treated through hormones and surgery, and arguments from TS/TG individuals that, "gender identity clinics are not concerned with the health of transgender people, but are only interested in their own professional research programs."[18] Namaste also explores how prostitution, sexism, and conflicting definitions of "health" factor in to the reception of Gender Identity Clinics, in order to  demonstrate that the TS/TG ". . . people [she] interviewed object to the practices of gender identity clinics to the extent that they do not fulfil their comprehensive biomedical, psychological, and social needs," and the fact that TS/TG individuals have very little say in the institutions which govern their health.[19]
(III.) While the previous chapters were based on individual interviews and analyses of systemic problems, the latter chapter engages with text sources that are instrumental in organising social life, as these sources relate to TS/TG epidemiology in Montreal, Quebec.[20] Specifically, Namaste examines how a person's legal sex is determined bureaucratically, and the effect this has on the health and wellness of those for whom that determination is more difficult.
In terms of intersex individuals born in Canada, bureaucracy factors heavily into the decisions that are made about their lives for them. A 2002 paper outlined that the guideline for Canadian medical practitioners has been, and still is:
. . .the so-called optimal gender policy of psychosocial and medical management, originally developed by Money, a medical psychologist, and the John Hopkins School  of Paediatric Endocrinology. This policy aimed to result in the best possible prognosis  with regard to six variables: (a) reproductive potential (if attainable at all); (b) good sexual function; (c) minimal medical procedures; (d) an overall gender-appropriate appearance; (e) psychosocial well-being; and (f) a stable gender-identity.[21]
These criteria have been hotly contested in the last few decades,[22],[23] but nonetheless remain relevant in Canadian diagnostic contexts. Where this issue dovetails with the political economy of health is on the issue of consent: should the medical practitioner adhere to these guidelines, an infant may receive a surgery that is not medically necessary before they can give consent. These procedures such as feminising genital surgery, can lead to anorgasmia (the inability to achieve orgasm) later in life. It is important to point out that not all early medical interventions are unnecessary for intersexed infants, but the ones that are purely cosmetic, such as most of the procedures that would be justified with criterion (d), would seem ridiculous in any other context. As an example, it would be preposterous for Canadian health service providers to assert that every woman with a cup size lower than a "b" would be required to have her femininity "normalised" or "enhanced" through breast augmentation with no patient consent required (as if it were emergency surgery); there would be outcries against the gender/sex based discrimination of such a policy, and yet, Canadian policy guidelines for clinicians clearly advocate procedures to achieve a "gender-appropriate appearance," for intersexed, non-consenting infants One wonders why cosmetic surgeries are not reserved for when the person is capable of giving legal or verbal consent.
Medicalisation and Gender/Sex-Variety
"The hospital is not only the site of the construction and treatment of the medicalised body, but the site of moral drama."[24]
In light of the medically unnecessary and culturally sanctioned procedures performed on intersex infants in Canada, it is necessary to consider how the medicalisation of difference impacts individuals: how does a person conceive of their own health and wellness when their very identity or body type is diagnosed as a disorder? Much of the literature that deals with the medicalisation of gender-/sex-variance is couched in terms of personal narrative, which is then connected to systemic analyses, employing the sociological structure of "grounded theory." The use of personal narrative is telling as to how interactions with biomedical care can be formative—positively or negatively—for a person's identity. The terms "Gender Dysphoria" and the many conditions under the "intersex" umbrella (including, but not limited to Klinefelter Syndrome, Androgen Insensitivity Syndrome (AIS), Turner Syndrome, Clitoromegaly, Micropenis, and Ovo-Testes)[25] are possibly the most common clinical names of conditions associated with transgressing gender/sex boundaries. These names may classify how many of the authors conceptualise of their own embodiment and personhood, but are also indicative of a biomedical disease or disorder. In pathologising divergent gender expressions and "natural" sex differences—"natural" in this case meaning the variety of possible combinations of primary and secondary sexual characteristics which are by no means homogenous within both the "male" and "female" sexes—Canadian society effectively polices social identities via the healthcare system.
In the case of trans identities, the diagnosis of Gender Identity Disorder (GID) insinuates that the expression of divergent gender expressions are symptoms of a personality disorder; in the Film Diagnosing Difference directed by Dr. Annalise Ophelian, one trans person comments on the apparent flaw in some medical discourses: that a "personality disorder" can be cured with plastic surgery. The pathologisation of GID can be both beneficial and detrimental to the health of people who identify as trans, often at the same time. Yet, if gender-/sex-variance cannot be classified as illness, the dilemma for biomedical practitioners and for gender-/sex-variant individuals is simply: how does one administer publicly-funded care without a disease or disorder to treat? Biomedicine is structurally incapable of conceptualising of disease without the pathogen,[26] so in terms of social ills that necessarily interact with the biomedical system, both the quality of care and access to that care are severely compromised.
The dilemmas of diagnosis and treatment are accompanied by discomforts in other components of any biomedical interaction. For one, a person sitting hospital waiting room, faced with the inevitable paperwork that entails, as well as the anxiety of an illness experience, is faced almost immediately with the reductive question of  'M' or 'F'? For a lot of people, the quick 'x' is bestowed on one box or the other without much thought, but for some, making that mark isn't so simple—and often, marking one or the other will lead to discrimination. Several gender-/sex-variant authors have commented that even in critical care environments, they have experienced the prejudices of hospital staff, exacerbating potentially life-threatening conditions. Additionally, several trans people have indicated that an infection such as strep throat has very little to do with gender presentation or genital appearance, but is nonetheless implicitly or explicitly connected in the clinical experience.[27] Les Feinberg, for example, suffered from a near-fatal heart infection, and in trying to receive care—albeit in the States—was kicked out of the Emergency room when it was discovered that their anatomical sex did not match their gender presentation. The doctor simply stated that, "you probably have a fever because you are a very troubled person."[28] The relationship between patient and practitioner of biomedical care is often assumed to be morally neutral, but as with any social interaction, it is inflected with the biases of those involved.
Power Structures in the Clinical Encounter
"Soon you shall know surgery as a Mass served with the Body and The Blood, wherein disease is assailed as though it were a sin."[29]
Although widely critiqued for dwelling to narrowly on the clinical encounter,[30] Arthur Kleinman's commentary on the doctor/patient relationship is useful to employ when examining this intrinsic power relations within the Canadian Healthcare system. As discussed above, the very concept that gender-/sex-variant individuals are 'disordered' sets the tone for the encounter with the usually-'normative' medical practitioner. Traditional western biomedical spaces of interaction implicitly posit the clinician as the objective, morally neutral expert/god, and the patient as the supplicant, ignorant charge.[31] As per Kleinman's analysis, because of this hierarchy, these encounters privilege the disease, the problem in the eyes of the practitioner, over the illness, the lived experience of the patient, thereby ignoring the social context of the problem.[32] Oftentimes, medical interventions for trans and intersex people are due directly to social intercourse: whether because of psychological and physical damage inflicted upon the gender-/sex-variant individual by others, or to spare others—such as parents, romantic partners, or employers—of the confusion or pain of discovering and/or living with the difference of a gender-/sex-variant individual. In all of this, gender-/sex-variant people are the ones living both with the consequences of this damage, and with the responsibilities of rectifying these consequences, constituting a cycle of "victim-blaming" which is a key tool in maintaining their marginalisation from the dominant society.
Power structures are also a deciding factor in who has access to care in the first place, as even though Canadian Healthcare is publicly funded, coverage and care depends on factors such as employment, citizenship/proper documentation, family contacts, community support, transportation, housing/address, etc., all areas in which gender-/sex-variant individuals face significant obstacles.
Making Changes
"Thus, even in the belly of the biomedical leviathan, spaces such as hospice care are opening up for the engagement of meaning."[33]
Most authors who identify as gender-/sex-variant or as allies  offer suggestions and solutions for improving health services for others like themselves. Additionally, Scheper-Hughes provides suggestions for the role of the anthropologist in bringing attention to social ills that are reinforced by the ideology of biomedicine, noting, "[w]e can disrupt expected roles and statuses in the spirit of the carnivalesco, the carnivalesque."[34] In the article "Transgender Primary Medical Care," numerous recommendations are made which incorporate the many aspects of health which have been sorely disparate in biomedical care, by employing the WHO's 1978 definition of primary health care, which
. . .includes a broad range of social, educational, and political interventions beyond the scope of the family physician or nurse practioner. . . active consideration of biopsychosocial, socioeconomic, and spiritual health is encouraged as a part of holistic primary care of transgender patients.[35]
This article discusses guidelines for transgender-specific concerns, such as hormone therapy issues, genital surgery issues, and psychological issues resulting from internalized transphobia, as well as discussing potential general issues in a trans-inclusive manner in relation to disclosure, vaccinations, sexual history, cancer, and many other medical concerns.
Equally, the Trans Health Lobby Group of the Rainbow Health Network has issued a statement that demonstrates the importance of gender-/sex-variant individuals' voices in defining the parameters of their own bodily care:
. . .1) advocating for the provincial government to publicly fund Sex Reassignment Surgery and related medical procedures, including access to hormones, electrolysis, and counselling, and whenever possible, that these services be delivered in community based settings; 2) to educate politicians and the media about trans people and their health care needs; and, 3) to gain agency and empower trans persons and their communities.[36]
Even though the literature on how the healthcare system in Canada interacts with the needs of gender-/sex-variant individuals is scant, it is still apparent in it that practices have a fair distance to travel in catching up with recommendations; however, at this point it is promising that the scholarly process and the policy-making process have built many bridges, and will continue to work together to better address the needs of an important part of the population. Until then, however, gender-/sex-variant individuals face challenges for their bodily, emotional, and psychological health in a different way than do 'normative' Canadians, and do not have the same recourse to institutions to deal with those problems. The biomedical system is a major vector of oppression in Canada; combating inequalities on the structural level through proper training and education of biomedical practitioners, and making health services more comprehensive and accessible has the potential to make a world of difference to gender-/sex-variant individuals.
---
[1] Nancy Scheper-Hughes,
Death without Weeping,
170.
[2] Lisa E. Stevenson, Lecture: "(M)Other Love and Child Death," in ANTH 227: Medical Anthropology, September 29th, 2009, McGill University, Montreal, Quebec.
[3] Nancy Scheper-Hughes, Death without Weeping, 170.
[4] Lisa E. Stevenson, Lecture: "Ethnography," in ANTH 227: Medical Anthropology, October 8th, 2009, McGill University, Montreal, Quebec.
[5] Nancy Scheper-Hughes, Death without Weeping, 26.
[6] Sandra Teresa Hyde, Eating spring rice: the cultural politics of AIDS in Southwest China, 12.
[7] Lisa Stevenson, Lecture: "The Problem of Belief," in ANTH 227: Medical Anthroplogy. McGill University, Montreal, Quebec.
[8] Emi Koyama, "The Transfeminist Manifesto," <accessed November 12, 2009, Eminism.org.>, 1.
[9] Izumi Sakamoto et al.,"A Normative Homeless Woman?," 13
[11] Vivian Namaste, Invisible Lives, 9.
[18] Ibid., 190-1.
[21] Kenneth J. Zucker, "Evaluation of Sex- and Gender-Assignment Decisions in Patients with Physical Intersex Conditions: A Methodological and Statistical Note," in Journal of Sex and Marital Therapy, 28: 269, 2002.
[22] Anne Fausto-Sterling, Sexing the body: gender politics and the construction of sexuality.
[23] Suzanne Kessler, Lessons from the Intersexed.
[24] Byron Good, "How Medicine Constructs its Objects," 85.
[25] Intersex Society of North America, <http://www.isna.org/faq/conditions/raphe> accessed November 26th, 2009.
[26] Lisa E. Stevenson, Lecture: "Ethnography," in ANTH 227: Medical Anthropology, October 8th, 2009, McGill University, Montreal, Quebec
[27] Leslie Feinberg, Trans Liberation, Beyond Pink or Blue, 3.
[29] Richard Selzer, "The Surgeon as Priest," 26.
[30] Lisa E. Stevenson, Lecture: "(M)Other Love and Child Death," in ANTH 227: Medical Anthropology, September 29th, 2009, McGill University, Montreal, Quebec.
[31] Ibid.
[32] Arthur Kleinman, The Illness Narratives, 3.
[33] Kleinman, "The Good Death," 7.
[34] Nancy Scheper-Hughes, Death without Weeping, 25.
[35] Jamie L. Feldman et al., "Transgender Primary Medical Care," 4.
[36] Rainbow Health Network, <http://www.rainbowhealthnetwork.ca/transhealth&gt;, accessed November 26th, 2009.
TOP
____________________________________________
Gender and the Male Gaze in Ugestsu
In 1952, Japanese filmmakers were relieved of the strict American media censorship that had characterised the occupation, which led to a blossoming of what some have called the "Golden Age of postwar Japanese cinema."[1] In this climate of flourishing artistry, Kenji Mizoguchi directed Ugestsu (1953), a filmic re-imagining of Ueda Akinari's 18th century "gothic tales" (so termed as they seamlessly mix elements of the natural and supernatural worlds).[2] Both the original tales and the film were deemed to be groundbreaking in their time: the tales becoming literary classics for their evocative mixture of local mythology,[3] references to Chinese and Japanese classics,[4], [5] poetic and prosaic forms,[6] and avant-garde moral sensibilities;[7] the film becoming a classic both domestically and abroad—winning a Silver Lion Award at Venice—for its hallmark long takes,[8], [9] haunting ambiance, and complex themes of social suffering.[10], [11] As the story of Ugetsu has been so widely lauded, it is useful to examine its treatment of gender, as the generalised reception of any work of art is telling as to what "society" (for lack of a better word) deems to be acceptable and natural; for individuals who are marked and constrained by gender, particularly women, the norms that are supported and perpetuated by popular culture have tangible effects on everyday life. In examining artistic products critically, however, certain norms can be de-naturalised. From this perspective, interpreting Ugetsu via three main frameworks brings to light both the revolutionary aspects of the film, and aspects which are complacent with the gendered status quo: namely through comparison with the Akinari tales whence the screenplay comes, the idea of mono no aware ("the awareness of things") that was popularised contemporaneously to the tales,[12] and the theory of the "male gaze," or "to-be-looked-at-ness" that arose in the 1970s Euro-American film context.
Two tales of the nine from Ugetsu monogatari were the primary source material for the plot of the 1952 screen adaptation: "Homecoming" or "House Amid the Thickets" (Asaji ga yado) and "Bewitched" or "The Lust of the White Serpent" (Jasei no in). The meaning of the collection's title, Ugetsu, is roughly "rain (u) and moon (getsu)," which indicates a harmonistic joining of two elements which are connotatively opposite in meaning.[13] Rain in this case evoking the feminine: warmth, youth, closeness, innocence, and love; and moon in this case evoking the masculine: coolness, maturity, distance, wisdom, and sorrow.[14] Indeed, the entire collection suggests a marriage of sorts, with even the structure of intermingling poetry and prose ". . .harmonized as a man and a woman well matched."[15] The stories are almost all tales of young men confronting sorrow or tragedy, although travel is an important theme as well, suggesting both a physical and metaphorical movement from innocence to experience. Even when a woman is the main or most compelling character of the tale—the latter being the case with the two stories that are re-imagined in the film—the protagonist is always male. Additionally, one author suggests that Akinari had in mind Sima Qian's (author of the Chinese classic, the Shi Ji) theory of literature in mind, that it is born of ". . .aggrieved men who pour forth dissatisfaction."[16] Literature and subjectivity, therefore, were to Akinari masculine domains, as is seen in the tales themselves; in this, a "man's world woman is either devoted or dangerous."[17]
In the first tale, Asaji ga yado, a man named Katsushirō leaves his wife, Miyagi, to seek his fortunes in the city. After seven years and even more delays, he returns to find his wife still in their home, dirty, isolated, and afraid. They spend the night together, but he awakens alone, realising that the home and his wife were an illusion and a ghost respectively. He pays his respects to his ever-faithful wife by telling a tale of a woman named Tegona, who was heartbroken that she could not satisfy the wishes of all of her suitors, so she killed herself. Following this story, he leaves this verse on his wife's grave:
Inshie no (Men of long ago)

Mama no Tegona wo (Must have loved)

kaku bakari (Tegona of Mama)

koite shi aran (Just as today)
One scholar comments that Miyagi is the ". . .epitome of the traditional Japanese woman. . ." with her "feminine devotion" and that ". . .Katsushirō's very weakness serves to emphasize Miyagi's strength."[20] Miyagi is a compelling character, for her single-minded fidelity granted her one last jaunt in the world of the living to see her husband's return, surely a privilege not granted to every woman who dies while her partner is away. This element of the story is retained in the film, except Miyagi is killed trying to preserve a last scrap of food for her son, Genichi, not passively waiting for a wandering husband (named Genjurō in the film). When Genjurō  arrives home, the ghostly Miyagi calmly spends the night repairing his garment, and dissipates by morning: she asks no questions of where her he has been or what he has been doing, but seems simply to be satisfied by the fact that he is home.
In the second tale, Jasei no in, a young son of a fisherman, Toyoo, finds himself enamoured of a woman of "fine breeding," named Manago.[21] Toyoo marries Manago, even though he suspects that she is a supernatural creature. It is later revealed that Manago is a demon (a white serpent), and she vanishes into a waterfall. In the meantime, Toyoo is betrothed to a woman named Tomiko; Manago disguises herself as Tomiko when Toyoo intends to consummate the marriage, in the process injuring Tomiko so that she dies at the end of the story. Toyoo eventually rids himself of the demon woman and ". . .live[s] on in good health."[22] As in the first story, the wife is sacrificed because of the husband's preoccupation with other matters; however, the wife is also remembered as noble and ideal, and it is the husband who looks like a fool for not realising his moral lesson before his loved ones have to pay for his mistakes. These stories make a man's life out to be one of learning, and a woman's life out to be sacrificial and selfless. At the same time, the serpent of this tale is the ghost of a real woman in the film, named Lady Wakasa, and her character is far more sympathetic than her demon predecessor.
Lady Wakasa (of the film) is a victim of a woman's circumstance, having never had the opportunity to experience love in her marriage, she returns centuries later and beguiles the already married Genjurō, thus transgressing her proscribed self-sacrificial role to pursue her wants and desires. In doing so, she essentially violates the aesthetics of her gender (as "fleetingly beautiful" and passive to masculine active observation) as per the aesthetic paradigm mono no aware, "the awareness of things," held by some to be the "essentially Japanese" aesthetic (coined by Motoori Norinaga at the same time as Akinari's Ugetsu monogatari was penned). Though extremely problematic, as it presupposes a monolithic Japanese culture, and has implications for women as aesthetic objects, it nonetheless provides an interesting discursive framework in which the character of Lady Wakasa can be analysed. As mentioned above, woman has an artistic purpose in the 18th century narratives: as a foil of and helper to man, neatly dichotomised as "devoted or dangerous," (not wholly unlike the whore/Madonna complex); however, this is problematised in the film in with the character of Lady Wakasa. She is shown, along with Miyagi, to be ". . .a victim of male selfishness."[23] She is a seductive threat to Genjurō's familial obligations—as he tarries with her, he allows his devoted wife to perish at the hands of rogue and starving soldiers—however, when Genjurō leaves Lady Wakasa, she also tragically perishes again at his rejection of her love. One scholar comments:
Mizoguchi's concern for women is recognized as a constant by all knowledgeable viewers of his work. As his surviving films clearly show, that concern is frequently expressed through his depiction of heroines pitted against a male-dominated, money-oriented society . . . A typical Mizoguchi heroine either rises up in revolt against a world that exploits her or simply suffers and endures. In either case, she is nearly always victimised by forces beyond her control and seldom emerges triumphant.[24]
Miyagi endures her fate stoically, and Lady Wakasa tries desperately to avoid it, both end up dying because of Genjurō's mistakes. With all of this sorrow and death at his hands, one would expect the audience to be less than sympathetic to Genjurō, but as he is the protagonist, it seems the audience is meant to feel some degree of identification with him (as an audience proxy). The women on the film, though interestingly portrayed, are flatly characterised, each only having one wish: Miyagi to preserve her family, and Lady Wakasa to experience love. Knowing each of their motives, we know how they will behave; Genjurō, however, behaves in a decidedly more erratic manner, as throughout the course of the film he seems to be trying to figure out his motives. If the audience, then, is meant to journey with Genjurō, how does it conceptualise of the female characters?
In the 1970s, there was a trend in North American and European film theory and media studies to psychoanalyse film, and it was in this climate that the feminist theory of the "male gaze" was popularised.[25] The term itself comes from Laura Mulvey's essay "Visual Pleasure and Narrative Cinema," which instrumentalises the Lacanian notion of the "gaze" and Freudian ideas about masculinity to deconstruct portrayals of women in Hollywood cinema. However, it is important to note that it is a seminal theory of the so-called "second wave" of Euro-American feminism, thus it has its more dated assumptions. The male gaze, while perhaps only appropriately applied in its totality as a theory in the contexts out of which it was formulated, can nonetheless be useful in examining gender in the Ugetsu. Mulvey defines a woman's place in narrative cinema as such:
. . .woman then stands in patriarchal culture as the signifier of the male other, bound by symbolic order in which man can live out his phanasies [sic] and obsessions through linguistic command by imposing them on the silent image of woman still tied to her place as the bearer of meaning, not maker of meaning.[26]
Mizoguchi has stated that the theme of the film is ". . .how violence, disguised as war, oppresses and torments the populace both physically and spiritually,"[27] and as mentioned above, he shows a particular interest in how violence effects women. Additionally, one author notes that, "Mizoguchi was obsessed with the gait of women, with their swoons, with their averted or penetrating gaze."[28] The women in this film are objects of curious fascination, passive representations of archetypes, even in their state of oppression and hopelessness. Of this Mulvey says: "In a world ordered by sexual imbalance, pleasure in looking has been split between active/male and passive/female. The determining male gaze projects its phantasy [sic] on to the female figure which is styled accordingly."[29]
While Mizoguchi was extremely preoccupied with women-as-victims, he never goes so far as to introduce women-as-subjects, even when women are the main or potentially most intriguing characters. The pleasure of identifying with the narrative is contingent upon the consistent female archetypes, as knowing the limited scope of their possible behaviours brings stability to a world embroiled in the turmoil of civil war, and allows the audience to focus on the moral lesson at hand: ". . .how violence, disguised as war, oppresses and torments the populace both physically and spiritually."[30]
That being said, Mizoguchi altered the characterisation of said women from the original tales, bringing to light the impossibility of their situations even more glaringly, and making the audience's journey with the flawed Genjurō all the more bittersweet, as it learns his lessons with him in relation to the tragedy he has affected. Indeed, "Mizoguchi's films are not objects to be observed but textual acts putting in motion correlative acts of response,"[31] a call for critical self-reflection. A female viewer may have to cross-identify with the male protagonist to experience the narrative, but the male viewer surely feels with Genjurō the injustice of war, violence, and women's station.
---
1. Keiko I. McDonald, "
Ugetsu
: Why Is It a Masterpiece?," 3-4.
2. Kengi Hamada, "About the Author" in Tales of Moonlight and Rain by Uyeda Akinari, xiv.
3. Leon M. Zolbrod, "Introduction," in Ugetsu Monogatari by Ueda Akinari, 28, 44-45.
5. Blake Morgan Young, Ueda Akinari, 49
6. Leon M. Zolbrod, "Introduction," in Ugetsu Monogatari by Ueda Akinari, 29, 32-3, 67, 71.
8. Film History: An Introduction, 395.
9. Film Art: An Introduction, 201.
10. Keiko I. McDonald, "Ugetsu: Why Is It a Masterpiece?," 4.
12. Leon M. Zolbrod, "Introduction," in Ugetsu Monogatari by Ueda Akinari, 69.
14. Ibid.,21.
18. Ueda Akinari, "House Amid the Thickets," in Ugetsu Monogatari, 132.
19. Uyeda Akinari, "Homecoming" in Tales of Moonlight and Rain, 19.
20. Blake Morgan Young, Ueda Akinari, 57.
21. Ueda Akinari, "The Lust of the White Serpent," in Ugetsu Monogatari, 162.
22. Ibid., 184.
23. Keiko I. McDonald, "Ugetsu: Why Is It a Masterpiece?," 8
25.  Cinema Studies: The Key Concepts, 324-5, s.v. Psychoanalysis and Film Theory.
26. Laura Mulvey, "Visual Pleasure and Narrative Cinema," 834.
27. Keiko I. McDonald, "Ugetsu: Why Is It a Masterpiece?," 7.
28. Dudley Andrew, "The Passion of Identification in the Late Films of Kenji Mizoguchi," 173.
29. Laura Mulvey, "Visual Pleasure and Narrative Cinema," 837.
30. Keiko I. McDonald, "Ugetsu: Why Is It a Masterpiece?," 7.
31. Dudley Andrew, "The Passion of Identification in the Late Films of Kenji Mizoguchi," 175.
TOP
____________________________________________
TOP
____________________________________________
TOP
____________________________________________